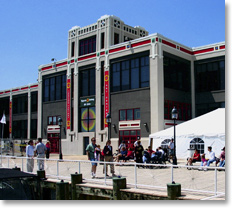 The Torpedo Factory is a beautiful art center with six galleries, over eighty artist studios, two work shops, and the Alexandria Archeology Museum. The Torpedo Factory Art Center is located on three floors for your viewing pleasure and is one of the largest art centers in the entire United States.
All this is located on the Potomac waterfront, which is a prime location for any important cultural center. With over one hundred-sixty artists producing original works, there are many opportunities to buy one of a kind high quality works from all types of mediums including paintings, print making, jewelry, ceramics, stained glass, sculpture, and photography.
The six galleries which all are welcome to view are, Scope Gallery (ceramics), The Art League Gallery, The Target Gallery, Enamelists Gallery, Multiple Exposures Gallery (photographs), and Potomac Craftsmen Fiber Gallery.
If the mood strikes you and you would like to contribute your own artistic skills there is also classes at the Art League School. The classes can be taken for those who are over five years old, and students must be at least eighteen to enroll in the adult program.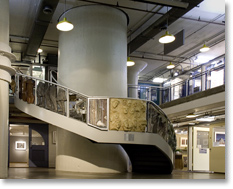 The Archeology Museum offers a wide variety of activities such as family dig days, biking and walking tours.
Whichever you are into, paintings, sculptures, or archeology, The Torpedo Factory will have what you are looking for. It is a wonderful place for people of all ages to enjoy.
The Torpedo Factory is at the heart of Old Town Alexandria located in the midst of the Northern Virginia's most sought after real estate. Residences here have access to the Torpedo Factory and many shops and restaurants, as well as attractions such as the Lyceum. All this is connected via the King St. Trolley to the Washington Metro system.