What's the Most Unusual Place You've Ever Visited?
I won't make this a contest, but it will be of GREAT interest to me to see what your comments are! And if this sparks the need to blog about YOUR most unusual place. 
Mine was a trip to Guatemala on about $60 in the late 80s or early 90s. 
I have no pictures, sadly, except for those in my mind. I spoke NO Spanish, but traveled with a friend from Guatemala City (we met in the film industry and he was part of the production team) and he was quite generous as he wanted to show off his country and I was a starving artist who didn't want to miss the opportunity.  We went there first (Guatemala City), where I met his parents living a rather barren existence outside of the city. Electricity was on for only part of the day and they lived better than most around them. People were washing clothesbeating them against rocks in the same water they drank from in a river flowing far below. I saw a funeral for a child. Little children were trooping behind the tiny pinebox coffin, held above their heads by adults and I recall them wearing school uniforms--they all had the same outfits on. 
I learned how to say "mariposa", which means butterfly.
We traveled outside the city.To Tikal.
I stayed in a tropical rainforest small room and got up about 4am and traveled in the dark to the Mayan ruins and hiked up to the top of one of the pyramids--the one they used for astronomy (I think that's what they told me) to sit in the mist rising up past my head and I meditated while the sun came up. I saw Tucans! And heard howler monkeys while we were walking through the forest, one would howl, another would howl back in a fierce retort.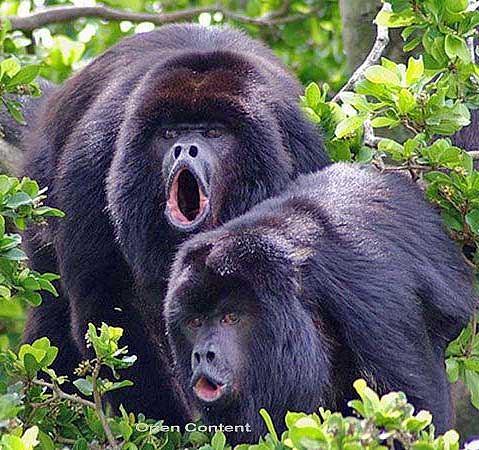 I thought it sounded like lions would sound, but was told about them ahead of time so that I wouldn't be scared. I wasn't, I was simply fascinated!
 We stayed on Lake Atitlan.
We stayed in a fancy hotel in a resort area that was locally coined "Gringolandia" because so many Ex-Pats had bought property there. I remember having my one and only American dish, Grateful Dead Pasta at an American restaurant nearby. I was in heaven. The name of the place escapes me now, but it was on water. 
We sat on our veranda that night and I had a special liquer made from locally grown fruits which was not legal. Earlier that day he had me sit in the car while he "visited" with someone in a small fruit stand/grocery area...I had no idea what he was doing. He had been looking to buy some of this for about 3 years he told me later. We had been driving and suddenly, he saw a man alongside the road and stopped and asked him a brief question which I of course didn't understand and then the fella either got in the car with us and showed us the way or he gave my friend, Edwin directions and we went back to the place where he could buy it. I remember plantains or bananas in baskets outside and lots of flies. I had a thimbleful of it because he was insistent that I try it. I got incredibly sick and ended up in ER the next day! I've never been so sick in my life. He was insulted. So sad that he would react that way, as I didn't try to get sick on something from his country. Such an odd reaction I thought, many times later. 
We went to Antigua. It is now becoming more of a tourist area, because it's safer than Guatemala City, but I don't remember much about it. I saw beautiful stunning churches with hundreds of candles lit day and night inside. The architecture everywhere was glorious! The colors of the cities and surrounding countryside were completely different than what I was used to. I remember seeing men passed out on  hillsides along the roads. I recall seeing a small man carrying a burlap bag over his back and he was hunched over walking with full crates, stacked, filled with old Coca Cola bottles--ridiculously heavy! The top of the bag handle went across his forehead. I asked my friend and I think he told me that they could make money on returning the bottles.  Everyone walked everywhere, no matter their ages! At one point, I asked how old people lived to be there, and I was told about 70. For as poor as they mostly were, they all seemed happy and so very gentle in spirit.
I do remember guerrillas and military vehicles, which scared the bejesus out of me. That is a vague memory. Thank God! 
One of the most delightful places we explored was Chichicastenango. Miles of local vendors selling their wares, and me with hardly any money--it drove me crazy!
Everything was hand-made, but my friend said, Wait, I will take you somewhere else where your money will go farther.  We drove later up into the hills,mountains on narrow roads (the elevation is very high there) when suddenly he pulled over to this very simple home on a crest of a hilltop. A woman was creating blankets, comforters, etc. out of some of the local fabric swatches.
I fell in love!
Some with hand embroidery.
I bought the biggest one I could afford which took most of the money I had.
And he said that this family would need the money more than some of the vendors in the city streets. 
What a glorious and eye-opening time I had that can never ever be replicated. One of the starkest reminders of how poor they were stuck with me. I recall coming home to my very modest one-bedroom house and sitting down on my comfy old sofa and thinking to myself as I looked around my room, How lucky I am to have what I have!