Home sales in Woodbury didn't reach the levels everyone expected this year.  As more and more homeowners gained the necessary equity in their homes needed to sell for a profit, inventory went up over 30%.  This combined with the flood of new housing inventory to compete with and the overall buyer activity down over 6%, created a drastic slowdown in home sales.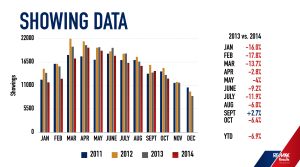 The good news is it's a great time to buy!  High inventory and record low interest rates have combined for one of the best buyers markets we have seen in over five years.
What Will 2015 Bring?
The interest rates are likely to rise in 2015 and this will affect affordability.  Homes will appreciate at "normal levels" of 2-4% and the homebuyers will continue to make very educated purchases.  If you are thinking of making a move, now is the time!  Don't wait until spring to list your home for sale.  Buyers will jump off the fence the second the interest rates begin to spike and if you're a seller with less homes to compete with you will capitalize on this opportunity.  Most sellers will wait until spring and may miss out on this traffic.