I have spring fever and I'm sure I'm not alone.  Spring is a time for renewal and what better way to start the season off then to give your home's exterior a fresh coat of paint!  There are so many wonderful colors to choose from and one can get very creative.  
Gray happens to be still a very popular color for a few years.  It's crisp, fresh, timeless & is not going anywhere!  If you want to follow the gray trend, check out this link from the National Association of Realtors website to find your perfect shade of gray and get ready for spring!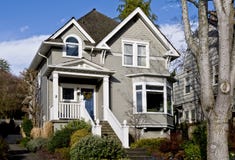 Find your perfect shade of gray here!
Feeling ambitious?  Why not add a POP of color to your front door!