Welcome to the 1st month of the new sellers market.
Home buyers had the upper hand since December 2013. The home buying tables have turned. This edition of our housing report will show home sellers have the advantage.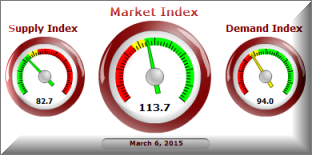 Home sellers - this housing report is to get your attention.
During 8 years of reporting on the Phoenix real estate market it's become clear that the Cromford Report is the premier source in Metro Phoenix for determining overall market balance. According to Michael Orr who publishes the report: The "Cromford Market Index™ is a value that provides a short term forecast for the balance of the market. It is derived from the trends in pending, active and sold listings compared with historical data over the previous four years. Values below 100 indicate a buyer's market, while values above 100 indicate a seller's market. A value of 100 indicates a balanced market."
The demand for housing, while slightly below normal, is outpacing the current supply. The indicates demand for housing has increased 6.5% from last February. Short term housing demand is up 22.5% from the 4,791 sales in January 2015.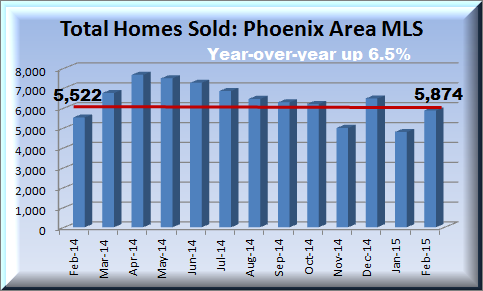 Okay, so home sales are not through the roof  in the Phoenix area. However, properties on the Phoenix MLS are below normal levels. 26,000 listings are normal for the Phoenix area MLS, a metropolitan area with approximately 4,500,000 people. Year-over-year supply is down 11.5%. The number of listings is down 2% from our last housing report in February 2015. This all adds up to an imbalance in the Phoenix area housing market that favors home sellers.
In our last housing report we wrote the "Best Time to a Sell a Home in Phoenix Area Begins Now."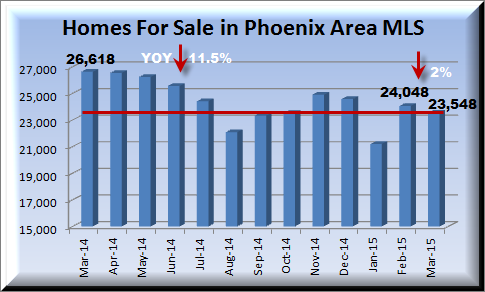 Have you been waiting for a great time to sell your home?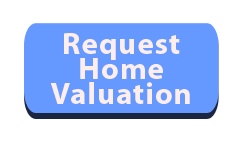 If you want to see:
our 3 minute housing report video
an evaluation of price per square foot
current days on market
housing market predictions
Finish the story on the Phoenix Housing Market
Thinking of selling? See the best team of realtors to sell your home.