Designing a luxurious home is personal. From colors and textures to the lighting and flooring, each addition reflects your personal style. And, attention to detail is key. Don't leave it up to the designers and architects to set your style, but rather take home renovation planning into your own hands. Create the home of your dreams with a little help from these professional-grade online design tools:
AutoDesk HomeStyler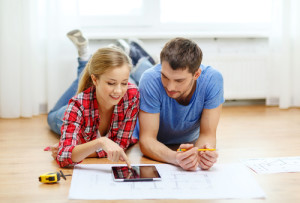 The professional design program AutoDesk HomeStyler is a must have during the planning stages of your home renovation. The program features easy-to-use drag-and-drop commands that allow users to move furniture and other home goods around within the 3-D floor plan. Users can personalize their virtual floor plans with designer furnishings from the product catalog, including items from brands like Kohler, Sherwin Williams and Flor. Once the design is complete, you can share your floor plan with your family and your designer to get helpful feedback. And, once you've finalized your plans, you can easily print out a list of all of the products you used to make shopping effortless.
Photo Measures
Keeping track of measurements may prove difficult during a remodel. But, it doesn't have to be. The Photo Measures app helps you keep track of all of your home's measurements during the redesign. Simply snap a photo of each room and draw your measurements on the screen. You also can easily edit existing measurements and add text comments to the images if the measurements need a more detailed description. The images can be exported as both PDF and JPEG files, which makes sharing with your designers simple.
iHandy Carpenter
Never second-guess if you've hung a mirror or a painting level again. The iHandy Carpenter app for iOS and Android contains two types of levels including a bubble level and a surface level. It also has a protractor, a ruler and a plumb bob that help you take concise home measurements. Use the plum bob tool during your home redesign to verify the verticality of walls and lines. Or, use the ruler to take helpful measurements. Having a set of tools available on your iPhone is much easier than toting around a heavy toolbox.
Color Capture
Are you inspired by the color around you? Benjamin Moore's Color Capture app lets you capture and match inspiring colors you see in your everyday life. Simply take a photo of a color swatch or item, and then the app matches that color to a color in its paint color database. The app contains more than 3,300 different paint colors, so there is not a shortage of possibilities. Use the app to save your favorite colors during your redesign, explore custom color combinations and browse the current Benjamin Moore offerings.
iPhone 6
Communication is one of the most important factors related to a home redesign, so your smartphone may prove to be your most helpful tool. A device such as the iPhone 6 keeps you connected to your designers around the clock. And, the 4.7-inch screen and upgraded display are perfect for creating floor plans or selecting paint colors. Staying connected is important, so make sure you have a reliable plan like T-Mobile's 4G data plan. This plan provides unlimited worldwide text and data that keep you connected whether you're at the beach in Monaco or spending a weekend in New York City during the design process.