Posted: Saturday, April 11, 2015 7:36 pm | Updated: 7:39 pm, Sat Apr 11, 2015.
The Auburn Heritage Association will hold a historic marker dedication for "The Bottle" on at 2:30 p.m. April 25 at the corner of U.S. Highway 280 and Alabama Highway 147 (North College Street), which is the original location of "The Bottle."
"The Bottle" is a site still listed on Alabama Highway maps as the gateway into Auburn, and is named for a giant Nehi Bottle that once stood at the location. The bottle was made of wood that spanned 64 feet high and 49 feet in width. It served as a gas service station and local hangout for neighbors and tourist alike to get to together and spin yarns. It also had a wooden staircase inside that ascended to the second floor and served as living quarters for students. A platform was built for parties and the "cap" of the bottle was the roof.
"The Bottle" was built in 1924 by John "Chero-cola" Williams of the Nehi Bottling Company in Opelika. President Franklin Roosevelt stopped by on his way to Auburn in the spring of 1936. Unfortunately it burned in the fall of 1936, but has been known by that name since that time.
The public is invited. The first 50 guests will receive a Nehi orange commemorative bottle.
Link to original posting.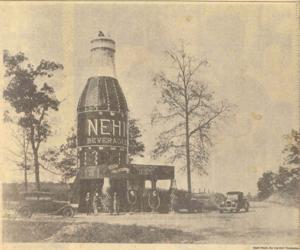 This picture of "The Bottle" was taken about 1925. Several Model T Ford's are shown.