San Francisco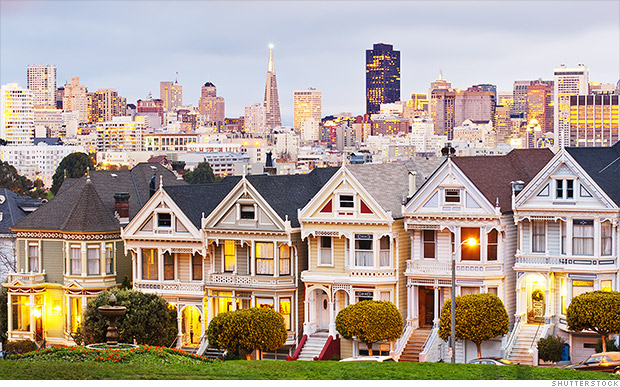 Price rise: 14.3%

Country: United States
It's a particularly good time to be a luxury homeowner in San Francisco.
The Californian city tops Knight Frank's Prime Global Cities Index of prices for high-end real estate around the world.
Tech industry money has been pouring into San Francisco, helping push up the median asking price to more than $1 million.
The list features other cities with strong tech sectors, as well as emerging markets where new wealth is blossoming, and foreign investment hotspots.
There are some notable absences. London prices were held back by political uncertainty, while luxury condos in New York got cheaper.
Next:
 2)Bangalore (India)
 3)Miami (USA) 
 4)Vancouver (Canada) 
 5)Jakarta (Indonesia)
 6)Tel Aviv (Israel)
 7)Tokyo (Japan)
 8)Dublin (Ireland)
 9) Los Angeles, (USA)
 10) Sydney (Australia)
The Knight Frank Prime Global Cities Index compares the performance of prime residential prices across key global cities. Prime property corresponds to the top 5% of the wider housing market in each city. Price rises relate to the percentage change from March 2014 - March 2015.
BY VIRGINIA HARRISON@VHARRISONCNN- LAST UPDATED MAY 20 2015 09:19 AM ET
Another great luxury housing area is Scottsdale Arizona. With a multitude of restaurants, golf courses, hiking trails, & art centers this is truly more than a desert town. If you're interested in looking at some reasonably priced luxury homes in Scottsdale, click the link below & then contact me for your private showing.
http://bruce0019.sreagent.com/index.php?quick=1&display=scottsdale&types%5B0%5D=1&beds=0&baths=0&min=0&max=100000000&sortby=listings.price+DESC&page=1
                          Bruce Parham        Solutions Real Estate     602.418.4876            bcparham@earthlink.net