Puzzled About Manufactured Home
Lending and Title Requirements?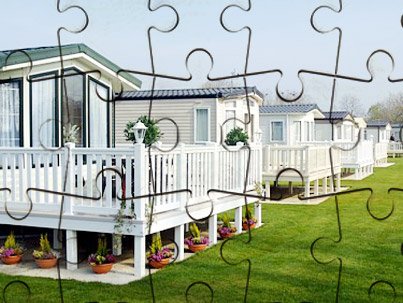 California: The 433A Curative Title Solution
The Personal vs. Real Property Puzzle:
Manufactured homes that are situated on deeded real property may still be classified as personal property (chattel) with the
Department of Housing and Community Development (HCD) even though the borrower is paying property tax! Since most
lenders, title companies and attorneys require proof that the home is attached to and classified as real estate via a recorded
413 or 433A document, a last minute discovery that a home has not been properly converted can impede a time sensitive
transaction or foreclosure.
Unlike other states where "detitling" or classifying a manufactured home as real property is a paper process that can be
expedited by a homeowner or escrow with relative ease, California has a collection of jigsaw pieces that need to be matched
up perfectly. Curative title requires cooperation of a building authority, contractor, and HCD, all working collectively.
We are uniquely qualified for California's title perfection and conversion process. MH-Processing can put the pieces of the
puzzle together, working with contractors, building departments and the Department of Housing and Community Development
to tackle California's unique 433A issues.
The Foundation Certification Solution
Sometimes proof of a 413 or 433A is not enough to satisfy underwriting requirements. For instance, FHA loans and some VA
also require a site specific engineer's certification that the foundation meets HUD guidelines. Some conventional loans require
that an engineer certify that any additions or modifications do not impact the structural integrity of the home.
MH Processing can help you tackle most manufactured home issues for the sales and lending process, whether it is a HUD
compliant Engineer's Certification or a foundation repair. We talk lender language so let us tackle the difficult questions.