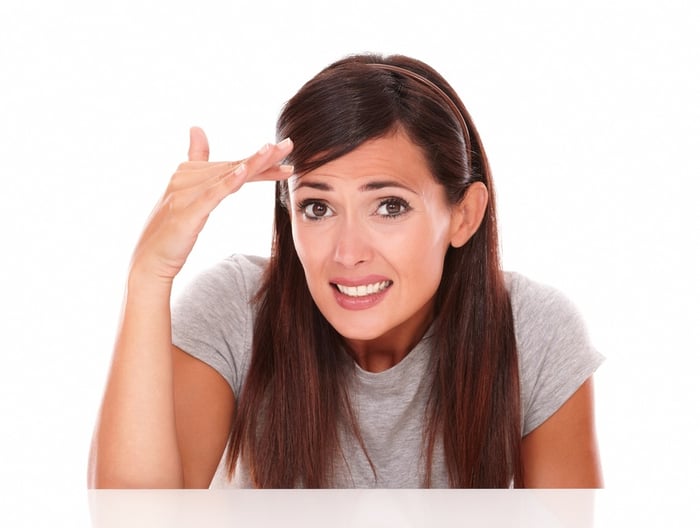 Most of the time, I focus my posts on sharing tech and consumer trends, apps that'll make your life easier and new real estate marketing strategies that'll help you generate qualified leads - but not today.
Today's blog post is all about the funniest (and most embarrassing) real estate stories and real estate bloopers I could find on the world wide web. I scoured sites and forums and found five stories that had me laughing out loud. Names have been removed to protect the embarrassed. Enjoy!
Top 5 Funniest Real Estate Stories - 2015 Edition
When Open House Guests Get a Little Too Comfortable:



I was doing an open house one summer, and at about 1 PM a couple came in and said they lived in the neighborhood and just wanted to look around. I said fine. I had several other people come in and look around and forgot about them. I was getting ready to close up the house and went upstairs and noticed that someone had turned on the water in the master bath. I opened the door to the bedroom and there was this couple - passed out on the bed in their pajamas! I went over to wake them and the man turned over to me and said, "Just give us a couple of hours."





I was so taken aback I did't know what to do. They had taken showers, changed clothes and taken a nap! So I went in and woke them up again and said listen, I need to close up now and you all need to go home. She rolled over and looked at me and said, "This was my home. It's my parents who are selling it and I just wanted to spend some time here," and she started crying.





The man got up - we walked downstairs and he said, "I want to buy this house for my wife, would that be ok?" I said yes, he made an offer and it was accepted. His wife hadn't spoken to her parents in years and they never knew that she and her husband bought the house.




The Tale of the Feline Security System:



We listed a townhouse that had a very rambunctious cat, and that is putting it lightly. We eventually named him the 'attack cat'. Of course both the seller and I were very concerned with agents and buyers coming through the house - and of course we wanted to protect the cat's well-being too.





We decided the best and safest place for him was in the room-sized storage area in the basement. We placed very large sign on the door that stated 'DO NOT OPEN - MEAN CAT'. Needless to say, an agent that was showing the home to a buyer paid no attention to the sign - so I got a phone call.





"Didn't you see the sign?" I said to the agent. As soon as that stupid question left my mouth I could almost feel the agent's attempt to climb through the phone and strangle me. To make a long story short….they spent the next hour trapped in the basement by the cat that was perched on the basement steps. If they went even remotely close to those steps, the cat hissed, growled, and swiped at them. Thankfully, the seller came home and freed them.




Whoops - Wrong Door!



So I'm out showing property back in November 2013. I noticed a set of keys on the kitchen counter of the condo labeled trash, laundry room, storage unit, garage, etc. I picked them up, read off the labels to my client and said "Let's go exploring."





We went outside to check it out. I had never been in that complex before and didn't know my way around. Immediately in front of me, across a small hallway, was a door that we suspected led to either the storage units or the garage. Rather than trying to find the key to the lock, I decided to test my luck and I just turned the door knob.





"Oh, it's unlocked" I said, and opened the door and went in. Then I noticed a man standing in the middle of his kitchen. Without knowing the layout of the building, I had opened the neighbor's back door and walked inside. My timing was perfect! There he was, in nothing but his boxers, eating a bowl of cereal.





"Good morning," he said. I must have turned every shade of red imaginable.





Luckily, the man was very nice. He got on his sweats, and then showed us where the REAL storage unit was located and told us all about the building.




The Day It Rained in the Desert:



I met up with a female client to show her acre parcels in Arizona, which she was interested in purchasing to build a custom home. My client was a mid 30s working professional who had bought and sold several homes as investments. The area is beautiful - but it's really out in the middle of nowhere - there's no civilization for miles.





Two and a half hours into our meeting, I started to realize that I really had to use the facilities. I had drank a lot of diet soda that morning. But there were no facilities anywhere nearby, so I decided I'd just have to hold it.





I'm not sure you folks know how long it can take to walk and look over land, but in this particular case it seemed like it was taking years. I was about to just tell my client that I was going to head to the city to use the restroom - but this didn't seem like the professional thing to do. Instead, I decided just to hold on as long as I possibly could.





Then it happened, I realized that I couldn't wait any more. Luckily, I noticed there was an overgrown shrub area that was calling my name. I told my client I was going to go check and see if the property corner was down in that area and that I'd be right back.





In reality, I ran over to the bush and relieved myself - and what a relief it was! Unfortunately, as I was midstream, my client said she was coming over to check out the creek. Well - I suppose she was right about that, there was one now. I was busted, but she was light-hearted about the situation. How embarrassing.




Keeping My Priorities Straight:



Back in 2011, I was meeting buyers at a home inspection. A few weeks earlier, I had purchased my first iPad. Now, there's one thing you should know about me. I'm not one to buy every new gadget that comes on the market. Instead, I wait to see if it has application for my business, then I prudently take the plunge. I was thrilled with my new purchase. It made my life so much easier when showing properties- and since our office is entirely paperless, it gave me the ability to pull up contract docs with ease.





Anyway, as I was getting out of my car, I had my hands full - and as I got out of my car, my phone rang. I looked down at it and unfortunately, wasn't paying attention where I was walking so I tripped on the curb. At that very moment, my buyer walked around the side of the house just in time to see me fly through the air. As I hit the ground, he ran to my rescue.





As he knelt down to help me up, the first words out of my mouth were, "Is my iPad okay?"





Yep, that's right. The only thing that mattered to me at that moment was my iPad. He assured me my iPad was fine and helped me to my feet.
Bonus Blooper
The Human Ferret Shield (Yes, You Read That Right):

First let me say in my defense that I grew up in the Bronx and because my neighborhood had no trees we didn't even have squirrels. There were other critters but they stayed in building basements and sewers, as they should.

I was taking a client out to see a house - and no one thought to mention that the owners had ferrets (plural) and they didn't always see a need to cage them. We were up in one of the bedrooms when these two critters went flying across the room (and yes, they can fly really high). Both of us were screaming and trying to get out of the room - which is very hard when you are in a panic.

Then I did it. I shouldn't have but I did.

The screaming was making the ferrets crazier, so I grabbed my client and put her in front of me. I used her as a shield, a human ferret shield. Eventually, she struggled out of my grip and we made it out of the house.

I kept apologizing but she was really mad and wouldn't speak to me. It's a good thing I was driving or she probably would have left me there. Needless to say, she never spoke to me again. I still can't believe I did that.


I hope you enjoyed these stories as much as I did!


---
 Get success advice from business moguls:
Free Download: Business Advice from Shark Tank VC's (25 Page eBook)