ANOTHER good month!  Trumbull CT home sales for July 2015 showed a 19% INCREASE in sales from the same period last year.  There was also a 36% INCREASE in sales from last month keeping closed sales on an upward trend. See annual chart below. 


Going forward, there are 39 homes under deposit and 36 sales pending.

The average listing and selling prices for July  were flat as compared to July 2014.   The median home price was down 4%.


Days on the market went up 12%. 
The market absorption rate came in at a LOW 3.07 months which is statistically  in a seller's market.   This means at the current pace, it would take 3.07 months to sell off the inventory of 209 homes.   Inventory went up but the higher sales kept the rate down well below the 6-month mark.
What is currently 'on sale' in Trumbull?


Homeowners, if you are thinking of selling, take advantage of a complimentary FREE market analysis on your Trumbull home today.
Sellers:  Please read Biggest Home Seller Mistakes if you are thinking of listing your home.  Guess what the BIGGEST mistake is!
The sweet spot for sales in July 2015 remained in the popular $300K - $400K range with 52% of buyers!  That is one strong price range. No matter which range your home is in, get it prepared to sell with effective pricing, (see Home Seller Mistakes blog post above)  staging, and marketing and you WILL be calling the movers!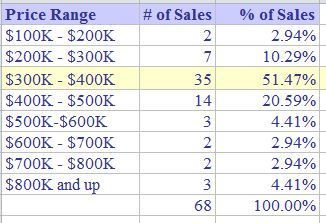 Which houses attracted buyers and sold in Trumbull CT in JULY 2015?
Trumbull CT July 2015 Homes Sold
(as recorded in the Greater Fairfield County MLS as of August 28, 2015)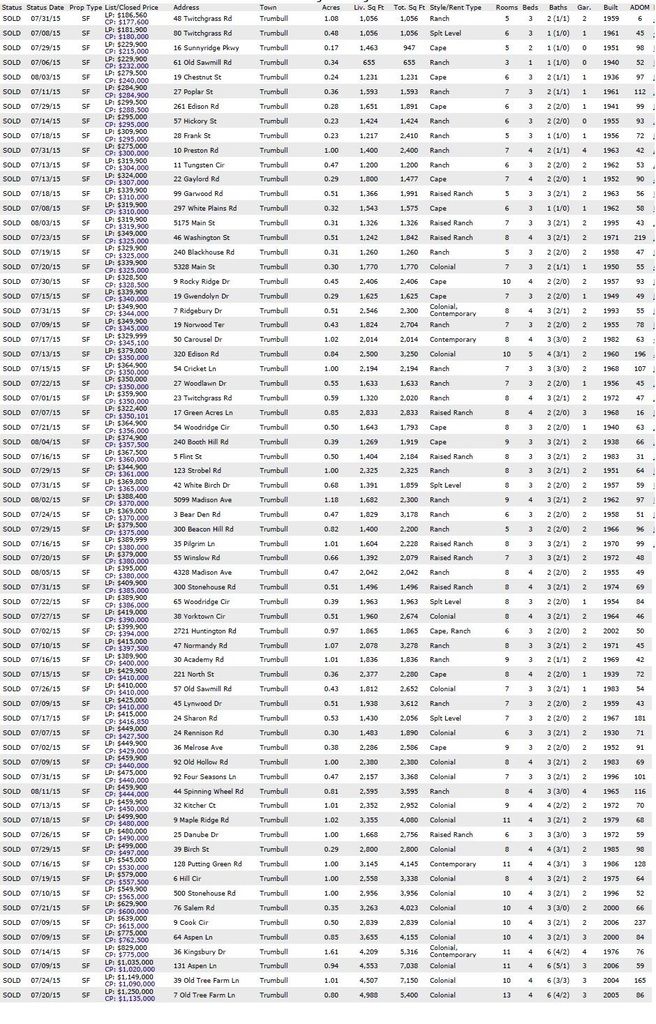 The absorption TREND, which shows the number of months it would take to sell the entire inventory at the same pace, came in at 4.05  months for the last three months. This number went down three months from last month thanks to the stronger sales.
It is VERY important to note that the absorption rate is calculated on all price points. If you are selling your home, your agent should calculate the absorption rate trend for your price range to get a more accurate analysis.  

NOW...THIS is the kind of trend we love to SEE!!!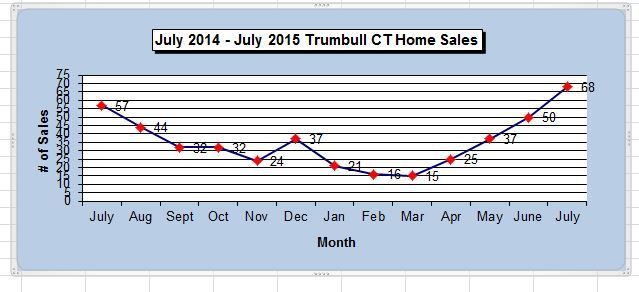 The closed sales price average for the month made a little recovery in July .  Averages have been pretty consistent in a time when we historically see the highest averages.  
 The success in selling your house in TRUMBULL or any other community is dependent upon accurate pricing, effective staging, absorption rate for your particular price point, and having a strong online marketing presence. A house will sell if there is a synergy among all four.
CONTACT ME for advice on how to LIST, MARKET, and SELL your home effectively in today's market. All agents do not provide the same marketing services.  I offer a superior marketing PLAN  to get your home in front of the most buyers.  
Date Source: Greater Fairfield County Multiple Listing Service -- August 28, 2015 No representation or warranty is made to the accuracy of this information.
Related posts:
Previous Trumbull CT market reports
 
Living in the Tashua Section of Trumbull CT
 
Trumbull CT Tashua Golf Courses 'FORE' All Skill Levels
Trumbull CT Real Estate Market Report and Homes Sold July 2015