In this version of our Metro Phoenix Home Sales report  we'll provide the facts and explain why we're still in a home seller's market  -- even though housing sales are slowing and prices are slightly decreasing.
Home sales tend to be cyclical across the country. Metro Phoenix is no different. The home sales cycle in 2015 has been much like any other year in our local housing market. Metro Phoenix home sales begin to accelerate in March, peak in June, and decline throughout the fall. We affectionately call this the "school shuffle" as parents try to complete moves before the new school year begins.
Here is the difference between 2014 and 2015. Metro Phoenix home sales between March-August 2015 have averaged 8,043 per month, up 15% from the same time period in 2014.
True to local history, Metro Phoenix home sales peaked in June and have decreased over the last two months. We expect they will continue to decrease throughout the year before they resume in early 2016.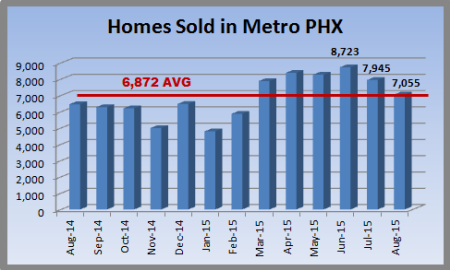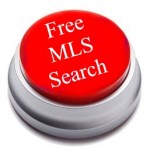 Decreasing Metro Phoenix home sales means less buyers looking for homes. It also means buyers have stopped bumping into each other at homes. Inevitably, multiple offers have become less common. This leads to price stabilization or, in our case, a decrease in housing prices. The below chart shows a steady increase in prices that peaked at $136 per square foot during April-June, then dropped to $133 over the last two months.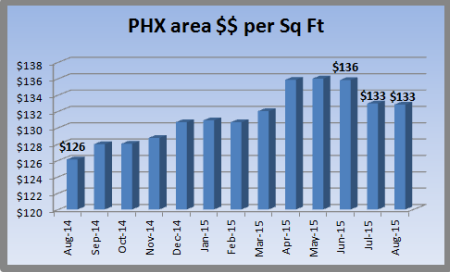 So, why are we still in a seller's housing market?  Lack of inventory is the simple answer. Housing inventory is 26% below normal levels. This leads to fewer acceptable choices for buyers.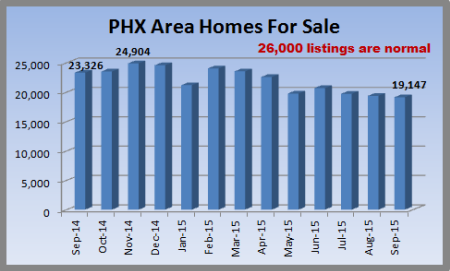 The Cromford Market Index® (CMI)  sums it up. It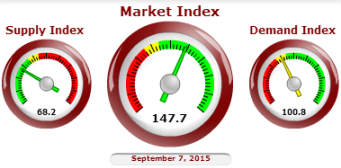 measures a combination of factors within the Phoenix real estate market that includes supply and demand. An index of 100 indicates a balanced market. Scores over 100 indicate a seller's market and scores under 100 indicate a buyers market. Housing demand is normal. Housing supply is very low. This is still a good time ...
 ... read the rest of the story here: METRO PHOENIX HOUSING REPORT