2015 Amazing Crop Maze in Lake Asbury Green Cove Springs Fl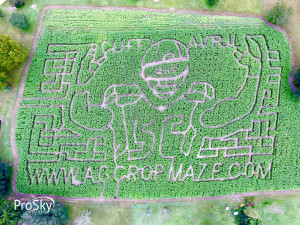 This year's maze is in honor of hometown hero Cliff Avril, who was a football star at Clay High School. Once a Blue Devil, always a Blue Devil! :) Now, Cliff has furthered his career playing on the Seattle Seahawks, but still makes time to help out his hometown community through the Cliff Avril Family Foundation.
The Amazing Grace Crop Maze has been a local favorite during this time of year. It's amazing how they are able to come up with different maze designs, and even more amazing how they are able to make the designs come to life without any issues. Surely if I was in the driver's seat of the tractor, it wouldn't be pretty! :)
See below for the details.........
Maze Info: October 2 2015-November 7 2015
Fridays: 5 pm - 10 pm Saturdays: 10 am - 10 pm October 31: 10 am - 5 pm (Last tickets sold 9 pm) Sundays: Closed $11 +tax admission ages 4+
For more information visit:
Amazing Grace Corn Maze
Also on
Facebook.

Both photos are from the Amazing Grace website for 2014 and 2015.