MARKET IN A MINUTE Real Estate Trends and Analysis
BARRINGTON HILLS, Dunedin Florida
Dec 15, 2015
ABOUT
Barrington Hills in Dunedin Florida is a community of approximately 231 single family homes. This 2, 3 and 4 bedroom home community has sustained great popularity with those who have become familiar with the area and can appreciate the incredible location. The majority of these block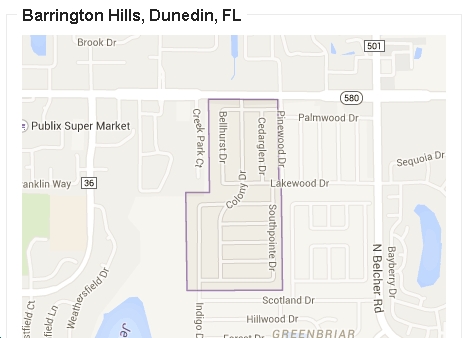 constructed homes were built between 1973 and 2004 and range in size from 1400 SF to 2800+ SF with 2+ car garages and pools.
REAL ESTATE TRENDS
From the data shown below in the Barrington Hills Market In A Minute, you can determine a value for your Barrington Hills home by applying the Sold Price /Square Foot ($133) to the size of your home. This would give a value for your home if your home was average. HOWEVER, Barrington Hills homes are all unique and such a simple method would be greatly misleading. Clearly a better way is needed to determine the value of your unique home.


The
Market In A Minute
chart below (Dec 15, 2015) shows three indicators that 2015 is proving to be a beneficial year for existing home owners. Three important trend lines d) Aver Sold Price, g) SP/SF and f) ADOM all favor the existing home owner.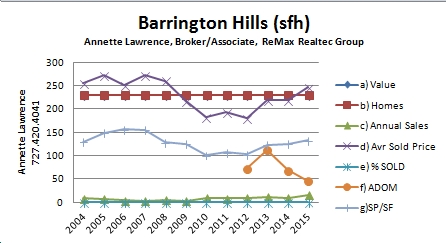 Avr Sold Price d) crossing the Value line a) suggests there is little opportunity for short term investor profit. Buyers looking to benefit from the value increases that are suggested in the data should consider enrolling in the FIRST LOOK plan of their REALTOR.

Four homes are currently on the market (Dec 15 2015), while one is pending sale. The astute buyer and seller should apply the CIS Score principles to negotiate the proper price for homes they are consider selling or purchasing..
To see what is currently FOR SALE in Barrington Hills click HERE
http://mfr.mlsmatrix.com/Matrix/Public/Portal.aspx?ID=0-744037430-10

Trend BULLETS
* 9 Sales recorded YTD 2015 (4 in process of closing)
* Sustained value increase since 2012
* Sustained SP/SF increase since 2012 
* Average Sold Price above value line, reduced investor opportunity
* Sales per month suggest record breaking year in the number of home sales 
The data below is the origin of the MARKET IN A MINUTE chart.. Worth noting in the data is the indication that pent up need is asserting in the Barrington Hills real estate market. Mobility will continue at elevated levels which will sustain respectable increases in value in 2015.


2015 promises to continue the average sold price increases that started in 2010. A decrease in ADOM and a significant boost in SP/SF suggests 2015 will be very beneficial for BARRINGTON HILLS home owners who understand the market and have the agility to strategically position their home in this market.

13% value increase over 2014

Mobility levels project continued value improvements

Annual Sales suggest strong demand for this community

ADOM suggests strong consumer demand will sustain increased prices.

A Market adjusted value of 3% is merited
For years home owners have been searching for a reliable method to value their home. And the methods available to the prohibit the owners from participating in the value calculation. Now that process seems UP-SIDE DOWN to me!
That is where CIS SCORE turns the process RIGHT-SIDE UP, alllowing the home owner to SCORE the ELEMENTS that determine the value of the house.
 What a REVOLUTIONARY IDEA! Ask the owner!
CIS Score is a revolutionary way of calculating the value of a house. The owner provides an objective SCORE of ten home elements. 
Those elements cover
C

osmetic presentation of the house

I

nvestment made by the owner
Systems in the house. 
Are you ready for a CIS Score?
If necessary I can complete your CIS Score over the phone.
Call me, Annette, at 727.420.4041 or
Text me with your name, telephone number, address and best time to call.
INSTANT RESULTS

DATA YOU PROVIDE

LOCAL TO YOUR COMMUNITY

OBJECTIVE
Don't guess and don't allow others to guess for you.

Get the information you need to empower your decision making.