This is my monthly Kauai REO, Kauai Foreclosure Blog. It is a compilation all Kauai MLS listed bank owned properties. It is updated at least once a month or more if the Kauai REO activity has increased. More pictures and information can be found by inserting the MLS number at my website at www.kauaidreams.com
Active Listed Kauai REOs: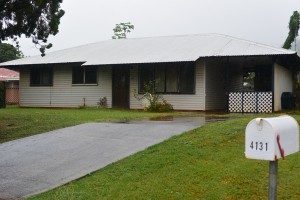 4131 Waiahi St, Hanamaulu

. 3 bedroom 1 bath home cash only. $310,000. MLS#290740. Owned by Nationstar and can only be purchased on their auction site at www.homesearch.com.
Halelani Village V203, Lihue. 2 bedroom 1.5 bath 2nd floor condo $193,900. MLS#291486. Owned by CitiFinacial.
3646 Omao Road, Koloa. 2 bedroom 2 bath on 4+ acres. $759,900. MLS#291288. Owned by Bank of New York Mellon.
3936 A Waha Rd, Kalaheo. 2 bedroom plus office, 2 bath home.

 Reduced

  $439,000. MLS#290385. Owned by OneWest Bank.
2688 Onu Place, Apt. A.  Located off a quiet road in Kalaheo overlooking Kalawai Park.  2 unit CPR. MLS# 288513. 

Reduced.

 $384,900.
Islander on the Beach #140. Studio Condo with bar sink area. MLS#285570. Reduced $159,900. Owned by Central Pacific Bank.
5237 A Laipo Rd, Kapaa 3 bedroom 2 bath CPR home. MLS#285565. Reduced $345,000. Owned by US Bank National Association.
Kalapaki Villas #404, Lihue. 2 bedroom 2 bath condo. $254,900. MLS#288941. A pet friendly project.
074 Uluwehi St., Koloa, Land Kukuiula Residential Subdivision Ph I, Lot size 12,427  sq-ft R4 zoning, frontage golf course. $795,000. MLS#283925. Owned by BMO Harris Bank.
Kauai REOS with accepted offers/in Escrow:
137 Kahiko St, Wailua Homesteads, 4 bedroom 3 bath home. Reduced $559,900. MLS#286506. Owned by Deutsche Bank National Trust.
5847 Hoolei Rd, Poipu. 3 bedroom 1 bath home. $399,900. MLS#290093.
7994 Kekaha Rd, Kekaha. 3 bedroom 1 bath house. MLS# 289388 Owned by Freddie Mac. Reduced. $229,900.
4372 Kilauea Rd., Kilauea, 5 bedroom 3 bath two story home offers flexibility for living arrangements. 2 car enclosed garage.  Cash only, sold as-is. $449,900. MLS# 287730. Owned by Bank of America.
5811-A Waipouli Rd, #1, Kapaa HI  5 bed 4 bath.  MLS# 279048 $669,700. (stuck in escrow).
3925 Kamehameha Rd, Princeville. 4 bedroom 3.5 bath home. $988,000. MLS#286968.
Kalapaki Villas #204, Lihue, 2 bedroom 2 bath condo. MLS#285181. $239,900. Owned by Fannie Mae.
1956 Hulali Loop, Puu Kaa Subdivision. This 3 bedroom 1 bath home in Kapaa is situated on a corner lot. Yard is level and fenced and has a mature plumeria tree. The home has been vacant for years and there is signs of leaking in a bedroom ceiling. Sold AS IS. at $300,000. MLS#288073. Owned by Financial Freedom. MLS#287537.
3424-A Poipu Rd, Koloa. Older home sold via auction. $344,900. MLS#288027.
Kauai Sold REO properties for the month of December 2015:
4222 Ono St, Puhi. 4 bedroom 3 bath home. MLS#285522. $431,600. Owned by HSBC Bank. Sold for $428,000 FHA on 12/3/15.
For 2015 there were approximately 31 sold Kauai REOs, 31 short sales sold & 930 non REO, non short sales sold. That's just a little over 3% of the market.  Total number of sales for 2014 was 1002 versus 20015 with 992 properties sold. Well it's 2016 and I'm not expecting much change in the volume of REOs listed and sold or total sales. There are some new condo projects selling in Poipu which will help keep our unit volume up as resale inventory is dwindling a little.
All of us at Kauai Dreams Realty are just psyched for 2016. We are committed to giving better service and being on top of the market. Looked for our other blog posts for the latest  updates. We would love to have the opportunity to work with you this year and help you with your real estate needs. Give us a call or send an email.
Aloha Julie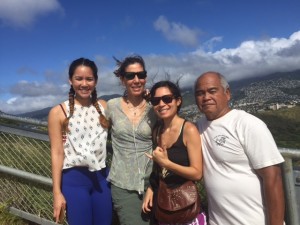 12/26/15 At Diamond Head Oahu. Julie & Family.
 This is my monthly Kauai REO, Kauai Foreclosure Blog. It is a compilation all Kauai MLS listed bank owned properties. It is updated at least once a month or more if the Kauai REO activity has increased. More pictures and information can be found by inserting the MLS number at my website at www.kauaidreams.com