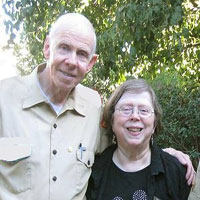 We wanted to wholeheartedly recommend  the best Tempe realtors of Ron and Kristina Wilczek.
We moved to Missouri five years ago at a time when it wasn't financially feasible to sell our Tempe home. Ron and Kristina helped us rent it until the market recovered sufficiently to sell it. They have gone above and beyond many, many times.
Most recently they helped us move out an uncooperative tenant, oversee a renovation of the home, stage the home, take some phenomenal pictures, and sell it for more than we thought possible. During every phase of the process they were communicative and professional. I don't think we could've left our home in better hands. Ron and Kristina, thank you again so very much for going way above and beyond what a realtor normally does. You both do much good and we think you are the best Tempe Realtors! Thank you so very much for all of your good work.
Art and Valerie Phelps
---
  Thank you, Art and Valerie! We've missed here in Tempe by everyone in church. We were grateful to help you sell your Tempe real estate investment and handle all the details while you made Missouri your home.
---
Looking to buy a home in the Phoenix / Tempe area? Search the Phoenix MLS with Metro Phoenix/ Tempe Realtors, Ron and Kristina Wilczek.  
]
Map Search best on desktop computer

Mobile device friendly search

Map Search best on desktop computer
---
Metro Phoenix/ Tempe Realtors You Can Trust
Looking for Metro Phoenix? Tempe Realtors you can trust? We've successfully completed over 300 real estate transactions for everybody from first-time homebuyers through experienced investors. Rely on more than just one review calling us the Best Tempe Realtors. See our many very positive reviews here:
and
We can help you buy or sell single family homes, townhomes, condominiums, patio homes, and multi-family units. Call us today at 480-445-9480 and we can get the most money on your sale or the best price on a home purchase.
This Tempe realtor review was provided by actual clients of Metro Phoenix homes who listed, and successfully sold, their investment real estate in Tempe Arizona.