Below is a look at whom mock drafts have the Raiders picking with the No. 4 overall pick:
- Mel Kiper, ESPN - RB Darren McFadden, Arkansas - Todd McShay, Scouts Inc - RB McFadden - Mike Mayock, NFL.com - DE Vernon Gholston, Ohio St. - Vic Carucci, NFL.com- RB McFadden - Pat Kirwan, NFL.com- DE Gholston - The Sports Xchange DT Glenn Dorsey, LSU - Profootballtalk.com- RB McFadden - NFLdraftcountdown.com- RB McFadden - Draftinsiders.com- RB McFadden - Sporting News OT Ryan Clady, Boise State - NFL Draft Scout - RB McFadden - Don Banks, SI.com- RB McFadden - Mike Lombardi, NFL Network- Gholston
As you can see above most draft experts are predicting that the Oakland Raiders with the number four overall pick in the draft this saturday. Coverage begins on ESPN at 3pm Eastern Standard Time. Al Davis the Raiders control hungry owner has a knack for recognizing talent and for the most part speed. The raiders head coach Lane Kiffin has absolutley no say as to who the raiders draft and he calls al davis the "general manager". Insiders close to the raiders and al davis have heard that if star running back Darren Mcfadden out of the university of Arkansas is the clear choice. The raiders clearly have needs on the defensive and offensive line but an explosive home run hitter like Mcfadden doesnt come around too often. As a lifelong raider fanatic i totally agree with these predictions:
With the number four pick in the NFL draft the Oakland Raiders select:
I have a feeling that the raiders will also make additonal trades and acquire more picks on draft day. They only have only have a total of 5 draft picks and dont have any picks in the second or third rounds. In order to fix this the raiders may trade future late round draft picks along with RB Lamont Jordan, CB Fabian Washington or CB Stanford Routt.
If for some reason mcfadden is picked then the raiders should go with the legacy approach and draft Raider legend Howie Longs son Chris Long Defensive end of out of the University of Virgina.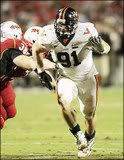 This offseason the raiders have spent money like it is going out of style, so the next few days are going to be very interesting.
Eddy Martinez
Nationwide Funding Group
Team Leader / Senior Loan Consultant
Office: 1-888-702-2225 x 115
Direct: 1-310-530-0917
E-Fax: 1-310-943-6551
emartinez@nationwidefgc.com