Grill Kabob Restaurant Amherst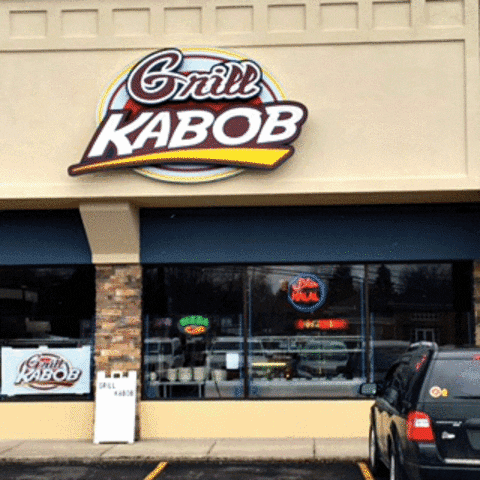 Grill Kabob Restaurant Located 9380 Transit Road, East Amherst
NY 14051 (Between Casey and North French)
Open between 11 am – 10 pm
Grill Kabob Restaurant offers a large selection of Middle Eastern/Indian dishes, some Indian/ American fusion dishes, and a small choice of Buffalo Pub food.
I was a bit overwhelmed with more than 33 menu items to choose from. A great excuse to come back over and over again
Appetizers like Samosas, Pakora, Chana Chaat. Kabob choices range from Chicken, Lamb, Beef prepared Tikka style, and Chicken, vegetable, beef and lamb cooked Seekh style; this is ground meet mixed with spices and herbs. Did I mention homemade naan, served warm a bit chewy, a bit toasty just write to eat there Humus, Chicken Makhani or many other saucy creations. If you prefer sandwiches, they offer Beef and Chicken Shawarma, Kabob Wraps, Kabab Burgers, Chicken Finger Subs and Philly Cheese Subs. Excellent fluffy rice made to perfection is a component of many menu items. Desert selections Gulab Jaman, Gajar Halwa, Rubi Kheer / Rice Pudding and Kulfi/ Popsicle. And the list goes on.
Beverage options only bottled items in the cooler
Grill Kabob Restaurant offers the choice to dine in or take out, if you call ahead of time you can place your order and pick it up, for bigger crowds they offer catering services. Dining is casual and family friendly.
You place your order at the front counter a friendly attendant will answer your questions and make menu recommendations, Service is fast and twice a week buffet is available excellent opportunity to enjoy the many flavors and aromas prepared at Grill Kabob
Their Web page is very basic and does not offer a lot of informationwww.grillkabobbuffalo.com
More information available at http://www.grillkabobbuffalo.com/
Your opinion is important, please leave your reviews and recommendations 
If you have plans to sell your House you must know that it may be worth much more than what you think, click to find out for FREE, or contact us directly 716-316-1629 we can prepare a market custom analysis for your house