Remember landscape mode?
Back when it launched, Apple made a big deal out of the fact you could turn your iPhone sideways and get a different view of an app. These days, many of us keep rotation lock on and don't switch to landscape mode unless we're watching videos. If that sounds like you, you're missing out on some useful features.
In most cases, when you flip your phone into landscape mode, you get the same view you see in portrait mode, just sideways. But every once in a while, something great happens and you'll get a whole new interface, packed with useful features and options you don't see in portrait mode. Some of these tips are old news, and they're a little dependent on which phone you have, but some of these even a seasoned iPhone user may have missed.
Calculator Turns Into a Full Scientific Calculator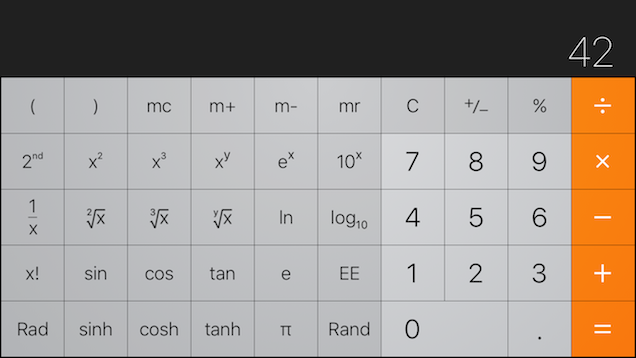 This is an oldie that's easy to forget if you don't use the calculator every day. Open up calculator and you'll see, well, a boring old normal calculator. Flip it horizontally and you get a full-blown scientific calculator. This means you get access to features like squares and square roots, a memory slot, cubes and cube roots, and good old sine, cosine, and tangent. It might not suffice for that advanced level college math class, but it's useful enough for the rest of us.
Safari Gives You an Easy-to-Glance Through Tab View and Lets You Search Open Tabs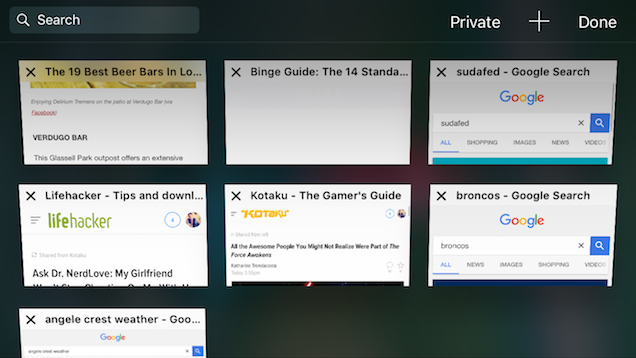 When you open the new tab menu in Safari when you're in landscape mode, you not only get a new view with a grid of tabs instead of a stack of them, you'll also get a search box. The grid view for tabs makes it way easier to find a tab at a glance, but if you have a ton to search through, the search tool looks through all headlines of all your current open tabs.
Calendar Gets a Detail-Rich Week View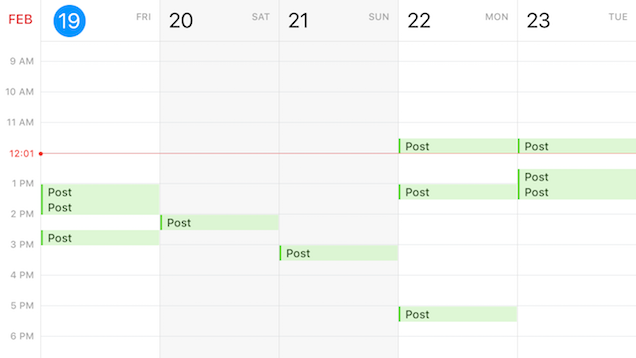 If you flip the default Calendar app sideways, you'll get an easy-on-the-eyes week view that makes it easier to see upcoming appointments for the next week as well as your schedule. Sure, you can tap a button on the screen to switch to week or month view, but this is even easier and makes better use of the screen real estate.
The Keyboard Adds a Few (Extremely Useful) Keys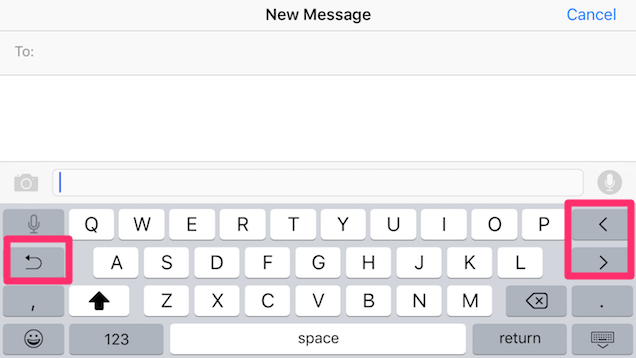 When you're in landscape view you'll get a slightly different keyboard. This actually has two incredibly helpful additions. On the left side of the keyboard you'll get a button with an arrow and a half-circle that deletes everything in a text box in one fell swoop. On the right side, you'll see arrow keys that make it way easier to navigate to a specific letter in a word without tapping the screen and dragging your finger around to make sure the cursor is in just the right spot.
In addition to these, special landscape views for Mail, Messages, Facebook Messenger, Tweetbot, Weather, and Clock apps are available on the iPhone 6 Plus and iPad. Of course, a bunch of other apps have special landscape views on bigger devices. It's very likely that more apps that you use regularly have views like this than ones that don't, so if you haven't flipped your phone on its side in a while, give it a shot. A fancy new landscape view might surprise you.
---
Originally posted at: Lafayette Real Estate News