Top Qualities of Top Assistants
What to Look for When Hiring an Assistant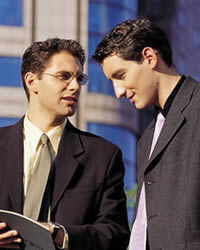 Your business has grown by leaps and bounds, and to continue on that upward spiral, you realize the need for a personal assistant. Keep in mind that your new hire will become as vital as your right arm, assuming if you choose wisely. There are several key qualities to look for during the interview process.

Professional recruiters at Hudson Global Resources & Human Capital Solutions, a worldwide office staffing service, surveyed several hundred of their clients in April 2004, from small companies to mid-size and large corporations. They sought to identify those traits which employers deemed most important. Nearly 50% of the respondents noted that the role of the personal assistant has changed drastically in the past five years, especially regarding the level of responsibility.

First and foremost, the personal assistant is now viewed as a "key member of the team" whose input has merit. Some of those employee's suggestions can make a boss shine if taken seriously, or at least serve as a springboard for brainstorming sessions. Thus today's informed employers realize that skilled, intelligent personal assistants add value to the business.

Personality and cultural fit. Believe it or not, employers weighted these characteristics as highly important aspects that they look for in new hires. They want someone with a positive attitude that helps build morale in the workplace; not quite a cheerleader, but someone who spreads enthusiasm rather than doom and gloom. And, they want someone suited to the work environment who can effectively take on a leadership role.

Experience. Ideally, candidates hired to support executives and senior management should possess a minimum of six to 10 years of related work experience. Of course, there are always exceptions. Aptitude and attitude both count. Though there is a need for business sense and some experience, remember that technical skills can be learned by eager and willing employees. So, never by-pass a superior prospect who doesn't know some computer program such as Microsoft PowerPoint that is easy to learn. Carefully evaluate all of the individual's qualifications.

Urgency - The rule of now or never. Does the prospective hire understand the phrase, "I need it yesterday," and can he or she deliver? Deadlines must be met. Missed deadlines can result in lost business.

Initiative. A true asset to any boss is the employee who can assess a situation, think on his or her feet, and require little to no guidance when following through on a project. Executives and managers who can rely on their assistants to handle all the finite details are free to go out and grow their business with the reassurance that they left the office in capable hands.
Brought to you by New Garden Mortgage - Certified Mortgage Planners