This is my monthly Kauai Foreclosures, Kauai REO Blog. It is a compilation all Kauai MLS listed bank owned properties. It is updated at least once a month or more if the Kauai REO activity has increased.
Active Listed Kauai REOs: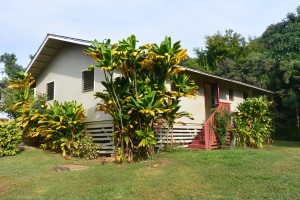 Kauai REOS with accepted offers/in Escrow
Halelani Village #V203, 2 bedroom 1.5 bath. MLS#

291486

. $193,900. Owned by CitiFinancial.
Islander on the Beach #140. Studio Condo with bar sink area. MLS#285570.  $159,900. Owned by Central Pacific Bank.
3936 A Waha Rd, Kalaheo. 2 bedroom plus office, 2 bath home.  $439,000. MLS#290385. Owned by OneWest Bank. Offer Pending.
5847 Hoolei Rd, Poipu. 3 bedroom 1 bath home. $399,900. MLS#290093.
7994 Kekaha Rd, Kekaha. 3 bedroom 1 bath house. MLS#289388 Owned by Freddie Mac. Reduced. $229,900.
4372 Kilauea Rd., Kilauea, 5 bedroom 3 bath two story home offers flexibility for living arrangements. 2 car enclosed garage.  Cash only, sold as-is. $449,900. MLS#287730. Owned by Bank of America.
5811-A Waipouli Rd, #1, Kapaa HI  5 bed 4 bath.  MLS# 279048 $669,700. (stuck in escrow).
3925 Kamehameha Rd, Princeville. 4 bedroom 3.5 bath home. $988,000. MLS#286968.
73 Lihau Rd, Wailua Homesteads. 4 bedroom 2.5 bath home in need of repair. MLS#292550. $395,200. Serviced by SPS.
Sold Kauai REO Listings for the month of February:
137 Kahiko St, Wailua Homesteads, 4 bedroom 3 bath home. Reduced $559,900. MLS#286506. Owned by Deutsche Bank National Trust. Sold for $559,900 CNV on 2/2/16.
3646 Omao Road, Koloa. 2 bedroom 2 bath on 4+ acres. $759,900. MLS#291288. Owned by Bank of New York Mellon. Sold for $759,500 cash on 2/2/16.
In the words of Mark Twain "Buy land, they're not making anymore." This quote really has meaning on Kauai. Our island is small and real estate is a limited resource. I love living on Kauai and I love working as a Realtor. Let me know if you want to become a Kauai real estate owner. Aloha Julie.
Check out our other listings at www.kauaidreams.com.
This is my monthly Kauai REO, Kauai Foreclosure Blog. It is a compilation all Kauai MLS listed bank owned properties. It is updated at least once a month or more if the Kauai REO activity has increased. Our website is: www.kauaidreams.com