One of the questions that came up in the Q & A section of ActiveRain a few days ago was about whether you should answer all the comments people leave on your blog posts. Most of the answers were to do your best to reply to the comments people leave you. For some people, this is common courtesy. 
There are some other reasons you may like to reply to the comments on your posts from other ActiveRain members. 
Comments can be the start of an ongoing conversation which can go off-line in either a phone conversation or a meet-up. 
We had a great featured post a couple of weeks ago. When you get featured posts, you tend to get a lot more comments than on posts which are not featured. 


The post I wrote led to some debate and was a bit controversial which can lead to some energetic commenting back and forth. 
One of the ActiveRain members who commented a couple of times on the post was Vegas Bob. 
Then he reached out to us with a phone call. 
He started on ActiveRain in 2008 about a year after we joined AR. 
He is currently trying to call 1 ActiveRain member each day.
Funny thing was, I have seen his comments throughout AR over the years but had no idea that idealogically we were on the same wave-length. 

We also learned that Vegas Bob lives part of the year in Alaska and part in Las Vegas. He likes to travel and has been all over the western United States. And his real name is Robert Swetz. He is a REALTOR®, a glass installer ( a Master Glazier), a professional photographer and an author. 
Learn more about Bob on his ActiveRain profile: 
http://activerain.com/profile/swetz777

Here is a painting he created about ActiveRain: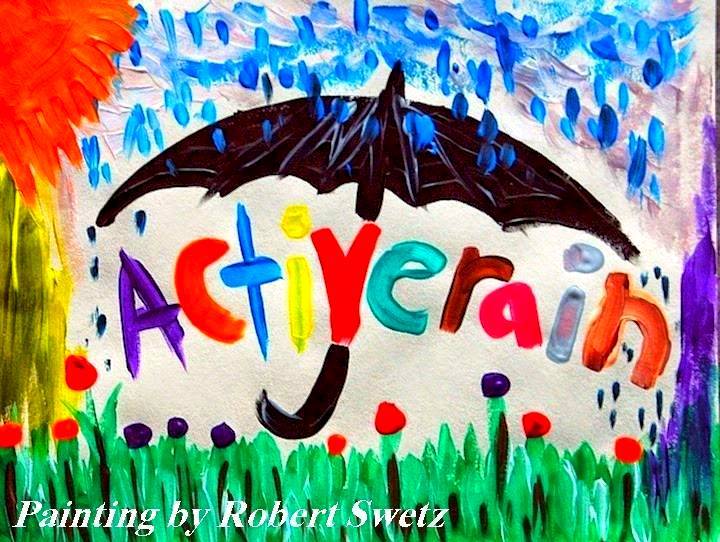 We had a great converstation about business, politics, ActiveRain, and our families. 
You may want to pick up the phone and call a few of the members who are leaving comments on your blog posts.