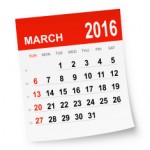 What's the biggest news reported in this month's Phoenix Area Market Conditions Report? The answer: the increase in number of sales from February to March.
You might be thinking  that's not so unusual because March had 2 more working days then February. While that's true, have a look at these numbers.
There was a net increase of 2,731 sales from February to March. That's the largest single jump in month to month home sales since March 2011 when the increase was 2,777. That's really saying something because home sales were at rock-bottom in March 2011, and homes were flying off the shelf, so to speak.
... more Phoenix Housing Market Reports
I've been doing a Phoenix Area Market Conditions Report since the summer of 2007. There has been no month with any bigger increase during that time.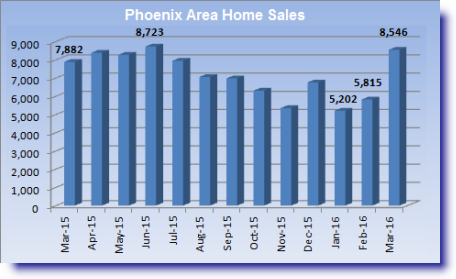 The jump in home sales is even more impressive when expressed as a percentage. March's increase was a whopping 47% (from 5,815 to 8,546). The increase in March 2011 was 38.6% (from 7,196 to 9,973). Year over year sales were up by 664, or 8.4%. Our Phoenix area market conditions report indicates high consumer confidence in the housing sector.
Active MLS Listings
New listings were up in March but the number of residential homes sales effectively cancelled them out. Search the Phoenix MLS.
Listings in the Phoenix MLS have been low over the last year. Low housing inventory is responsible for keeping us in ...
... read the rest of the story at: March 2016 Phoenix housing report