Church Hill is one of the most buzzed about neighborhoods in Richmond today.  Its historic legacy is only rivaled by its expanding food scene.  A truly unique neighborhood, it fits the bill for all types of homebuyer profiles.  There is a bit of everything and chances are, no matter what type of scene you're looking for, you can find it there.
If you're a first-time homebuyer, Church Hill has lots of affordable homes ready to be snatched up!  It is a great "starter" neighborhood for young professionals, newlyweds, etc.  Although it's tucked away from the noise of downtown, it is very much a part of the Richmond active social scene with lots of trendy restaurants and hangouts the rest of the city migrates to.  Award winning restaurants like Dutch & Co., Metzger's Bar and Butchery and The Roosevelt are stocked with the chefs and staff that keep Richmond dying for that next fancy cocktail or well-plated culinary imagining.  There are the classic Church Hill staples to always look forward to such as Patrick Henry Pub, Hill Cafe and Alamo BBQ that's just good eats.   Those are just to name a few, there are lots of
culinary gems
packed onto that one little Hill!
If you're an investor and want to rehab a home, it is a great place to invest!  There are many historic homes that need a little TLC, waiting for the right investor to see it's potential. 
There has also been a lot of new construction going up in recent years.  Some builders want to keep the historical aesthetic of
classic Church Hill
 while some of the construction is
decidedly modern
with a minimalistic perspective.
If you're looking to downsize 
like I did
,
 there are many homes that fit the bill as well as many old Richmond buildings or factories that have been repurposed as condos, taking advantage of that vibrant brick backdrop and high ceilings. It has many of the conveniences you'll need within walking distance like banks, a post office, a full-service grocery store, drug stores and an animal hospital!  So you can live simply with everything at your fingertips!
The neighborhood itself is just like taking a stroll through the park .  With a whopping 5 of them just in the area, along with various historical landmarks and cemeteries (it's a Richmond thing), you are surrounded by beautiful scenery.  Like at Jefferson Park overlooking the RVA city skyline, or Libby Hill Park overlooking the James River you can take in the Richmond view from nearly a 360 perspective.  Walk your dog in Chimborazo or check out St. John's Church where the historical significance is awe-inspiring.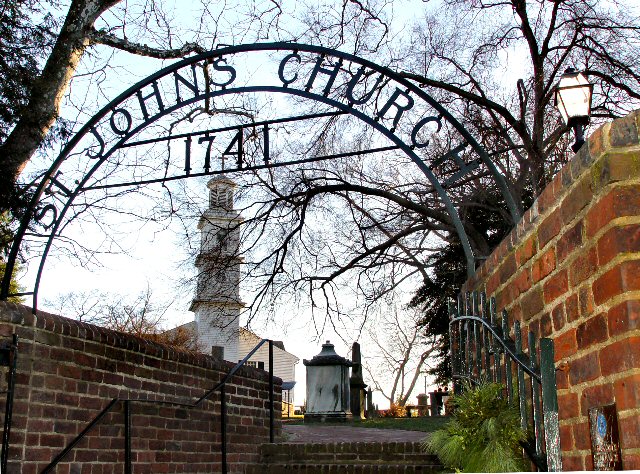 Young, old, retiring, renovating or buying your very first home, Church Hill has something to offer everyone, not only with culture and atmosphere, but it's diverse housing as well!