Love your Honua Kai life from the ocean view 3 bedroom/3bath suite Hokulani #729 which was just listed for $2,435,000. Hokulani #729  is distinguished by its 7th. floor inner courtyard location, refined finishes (granite, travertine, Viking appliances),  and onobstructed ocean, outer island, inner courtyard, and sunset views. Its strong rental income will fill the appetite of investors looking for a strong ROI. Honua Kai is literally a world class resort and a perfect home away from home. 
This property is perfect for larger groups of families who want to travel together and spend their time in the sun in sumptuos accomdations all under the same roof. 
Honua Kai Hokulani #729 | 1,600 sq.ft. living + 240 sq.ft. lanai | 3BR / 3BA | $2,435,000| (MLS# 368995)
Situated on the preferred location of the inner courtyard of Honua Kai's original and most elegant tower, Hokulani #729 offers direct ocean views and year round sunsets from all three bedrooms, the living area, and the spacious covered exterior lanai area. The prevailing tradewinds will not be a factor due to the location within the complex; and there is nothing to obstruct the views from the 7th floor elevation.
Hokulani 729 is located on the left side of the two center stacks in the above photo on the seventh floor. 
One of the comments that we most frequently receive from our guests is that this floor plan feels much more like a home than it does a condo. Guests absolutely love the layout of this suite, with master suites on both the southern and northern ends of the condo. There is one more bedroom on the southern end with a full bathroom directly adjacent to the entry doorway of of this bedroom. Each one of the bedrooms has a full ocean view.
Commanding ocean views like this from every room in the house at Hokulani #729.
Hokulani 825 and Honua Kai HD Video Presentation 
I am featuring the above professional video because Hokulani #825 is one stack over and one floor up from the subject property of this post, Hokulani #729. These properties have the same exact floor plan, very similar finishes, and almost identical views.  I represented the owners of Hokulani #825 a couple years ago and we very succesfully ran their property through our vacation rental program from the onset of their ownership. Last year, we cleared $215K in gross rental income for Hokulani #825. 
I do have a full length amateur video of Hokulani #729 as well- please reach out to me directly if you would like this. 
Hokulani #729 Details
Luxurious 1,600 sq.ft., 3-bed, 3-bath residence (living room has a queen fold-out sofa)
Covered 240 sq.ft. lanai fully opens to living space
Two master king suites with elegant bathrooms
Marble shower, large tub, his/her granite sinks in master bathrooms, and one sink in 3rd bathroom
Third bedroom can sleep as a king or twin beds
Dining for 8 in living area at dining table plus three more at the granite island bar; bathroom directly adjacent to the entry doorway of of this bedroom
Gourmet granite kitchen, Viking appliances
2 ovens, gas range, microwave, oversized refrigerator
Granite island bar with additional sink & wine refrigerator
Every bedroom in Hokulani #729 has views like this...wish you were yet? 
Honua Kai rental income revenues are some of the highest in all of Hawai'i.
Please reach out to me directly for current rental income figures on this property. Properties like this have historically been deriving roughly between $175K-$225k in gross rental income. The specifics depend primarily on owner useage and the vast differnences that different professional managment companies offer. 
There are a variety of different ways that an owner can rent his/her property out which I will detail in a later post. Basically, you can work with the in-house management company, work with an independent management company like our firm, or the rent the property out on your own within the framework of state laws. 
We have a number of different properties currently in our rental portfolio very similar to Hokulani #729 that rent for well over $200k+ per year. Once again, please reach out for the specifics. 
Direct White Sand Beachfront Location in Ka'anapali, Maui
Honua Kai is the preeminent resort in all of West Maui (4 Diamond rating) with its direct beachfront location, newer construction (completed in 2008), and unmatched pools and amenities including the Ho'ola Spa.
Honua Kai is at the center of all that West Maui has to offer – 5 star restaurants, championship golfing, and world class white sand beaches with stunning natural surroundings. With Honua Kai's convenient central location, you will not need to travel more than 20 minutes in any direction for a complete and memorable vacation experience.
Honua Kai Resort and Spa was recently recognized by Conde Nast Traveler on their Reader's choice 2014 Gold List as a top 10 resort in Hawaii.
What we love about Honua Kai 
Honua Kai is the newest beachfront whole ownership condominium in West Maui, Hokulani was built in 2008 and Konea in 2009. Surrounding whole ownership buildings are 20-40 years older than Honua Kai.
Honua Kai is zoned for short-term vacation rentals – occupancy rates, average daily rates, and overall rental income have steadily risen throughout the years and are some of the very strongest in all of Hawaii.
The onsite Ho'ola Spa is a full-service spa with natural treatments using exclusively Maile organic products.
38 acres of direct oceanfront land – Honua Kai is one of the largest resorts in all of Maui, which allows its owners and guests to experience the sensation of spreading their wings and enjoying all the open space.
The onsite Aina Gourmet Market is a great place for sandwiches, fresh juices, a full-service coffee shop, and some basic sundries.
The 5 different pool experiences at Honua Kai have something for everyone and are a major reason guests return every year.
Duke's Beach House restaurant is directly onsite with excellent breakfast, lunch, and dinner service, and great local entertainment. Duke's also takes care of the poolside beverage and food service. I have eaten at many of the restaurants in West Maui and truly feel that Duke's is one of the best values in the entire area.
Snorkel through vibrant reefs steps from the resort. Additional instruction is available in the resort pool and diving directly in front of the resort.
Shopping center within walking distance: restaurants, supermarket, dive/snorkel rental shop.
'Beach Walk' connects Honua Kai to Whaler's Village.
Oceanside restaurants & bars within walking distance.
The quaint and historic town of Lahaina is 10 minutes by car.
Championship golfing, world class restaurants, and more stunning white sand beaches all within 20 minutes or less throughout West Maui (Lahaina, Ka'anapali, Napili, and Kapalua).
Honua Kai Resort Amenities
Residents and guests will enjoy the recent opening of the Ho'ola Spa which is located on the ground floor of the Konea tower. Ho'ola Spa offers therapeutic body treatments that combine the cultural attributes of the islands' unique healing traditions with the very latest advances in wellness. Services include massage therapy, body, skin and facial treatments, as well as, an innovative Himalayan Salt Spa.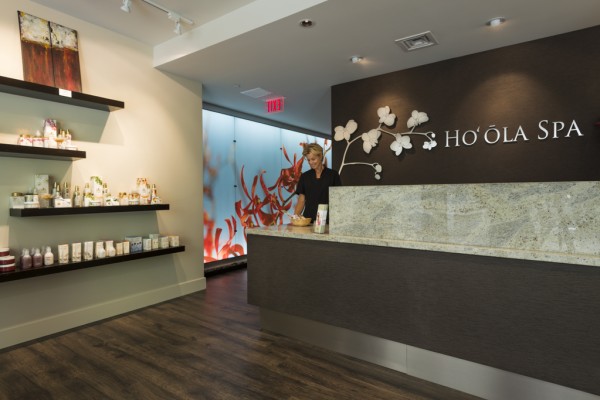 Also on the ground floor of Konea is the complex exercise and workout room (set to expand an additional 500 sq.ft. in the near future) offers an assortment of top-of-the-line workout equipment, stationary bikes, treadmills, elliptical, free weights and strength training machines. Located in Hokulani, the fitness classroom features a wide variety of daily classes for every fitness level.
The Best Pools of Any Resort in West Maui
One of the main attractions to Honua Kai are the 3 pools, 3 hot tubs, waterfalls, lazy river, and kids pools. All three spectacular swimming pools offer their own unique experience.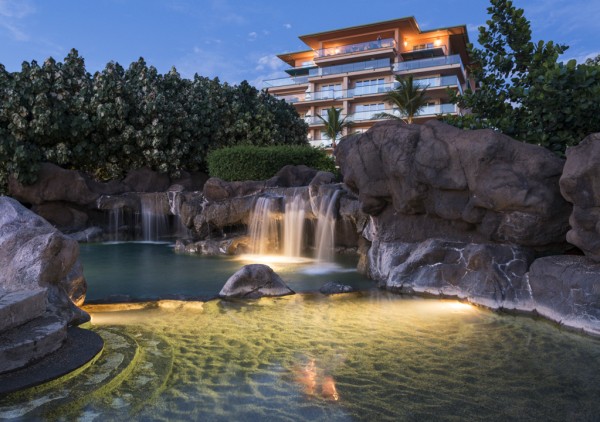 The formal pool is an infinity-edge lap pool featuring two Jacuzzi whirlpools and perfect ocean views.
The 'Ohana (family) pool features a one hundred and twenty foot water slide and a waterfall that cascades into the main swimming area. Natural lava rock forms an elevated hot tub that takes in the ocean views. The 'Ohana pool has a sandy beach and a shallow 'keiki' (kids) pool.
The river pool features a meandering river that flows through smaller swimming holes and waterfalls.
On-Site Dining Venues
Enjoy ocean view dining and stellar local music entertainment at Dukes Beach House located directly in front of the Hokulani tower. Dukes will also do poolside food and beverage service around the pools at Honua Kai and you can call in orders for pick up while staying in the room. Their offerings are tasty and affordable, they have service with aloha, and its tough to beat the location and ambiance. The cuisine is Hawaiian influenced with a focus on fresh, sustainable seafood and premium steaks.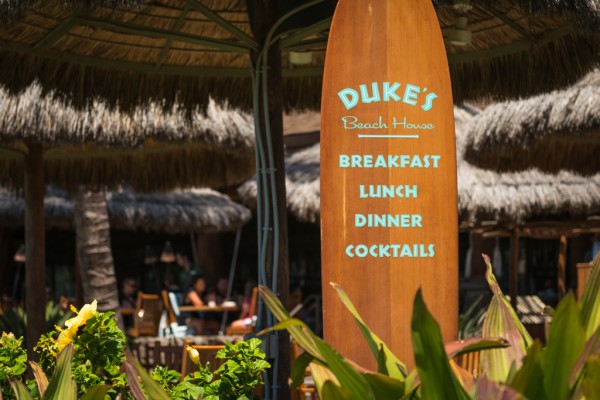 Also located in ground floor level of the Hokulani tower is Aina Gourmet Market which is a charming, rustic cafe with a full coffee bar; deli case of pastries, prepared salads, and snacks, hot panini sandwiches, and "zappers" for healthy grab 'n go meals.
In the event that you would like to do a little cooking of your own, in addition to the professional kitchen in Hokulani #729, there are also 8 ocean view grills throughout the resort that area available for all guests to use.
 Kaanapali North Beach
Kaanapali North Beach looking north towards the island of Molokai. 
The reef fronting Honua Kai is vibrant and has an amazing plethora of tropical fish, turtles, and in whale season I have seen a few only about 50 yards off shore. This stretch is very special to both me and my wife as I proposed to her on this beach and enjoyed steak and lobster at Duke's back in 2011. It is easy to understand why this is a special place for so many who come from across the world to be here. It's all about the memories made on Maui. I have been privileged to assist many buyer and seller clients at Honua Kai.
One of the several different pool experiences at Honua Kai 
Call Hokulani #729 your home away from home today
The evening view from Hokulani #729. 
The Inside Track at Honua Kai
Honua Kai radiates with positive energy and I truly believe represents the optimal part-time ownership experience in all of Maui. Here is what one of my most recent buyer clients said after purchasing their second one bedroom at the resort: Konea #148 – The Last One Bedroom Developer Unit Sold at Honua Kai.
I am here to assist you in anyway that I can. I have represented 21 buyer/sellers at Honua Kai since 2011. I am an owner at Honua Kai, have run my own vacation rental program at this resort, and am now the Head of Accounts for Maui Resort Realty which has over 50 top performing vacation rental properties at Honua Kai. Please visit my blog entirely dedicate to Honua Kai that I have been writing since 2011 www.HonuaKaiBlog.com 
My own Honua Kai homeownership experience blog-Megan and Jeremy Stice are proud new owners at Honua Kai. 
Subscribe to my blog feed here: Subscribe to Maui Resort Realty » Jeremy Stice, R(B) by Email.
Aloha from Maui,
Jeremy Stice REALTOR (Broker #21286) Maui, Hawaii
Top 100 Realtor recipient in State of Hawaii 2014 & Top 50 in '15 
(808)281.2178 Direct
10 Halawai Dr. Suite #A-3 Lahaina 96761
Maui Resort Realty lives in Lahaina, Maui Hawaii