Two of the most spectacular beachfront Ka'anapali, Maui residences at Honua Kai were listed in the last couple of months. Only one of them now remains, Hokulani #650 an oceanfront King Kamehameha Suite 3bd./3ba. residence of 2,650 sq.ft. with a massive lanai that measures 3,200 sq.ft. essentially making this over 5,000+sq.ft. of Ka'anapali beachfront bliss. 
The other King Kamehameha Suite, Konea 601 just sold this week for a tad under $5.5M, making it the highest sale ever at Honua Kai (this property originally sold from the developer in 2010 for a bit under $5.4M)
Both of these properties represent the zenith at Honua Kai and are arguably some of the best luxury condo residences in all of West Maui. These are rare offerings and there hasn't been anything on the market like them since Konea #601 sold in mid 2014 for $5.2M.
If you are looking for and deserve the best of the best, look no further.
In the event that $5M is pushing it for you, check out my other 3 bedroom best buy listed at $2.45M. 
Hokulani#650
3bd./3ba.     2,650 Sq.Ft. Living Area    3,200 Sq.Ft. Covered Lanai     $5.45M 
What I love about Hokulani #650 
Encompassing the entire sixth floor northern end beachfront portion of the Hokulani building lives Hokulani #650. It's hard to determine exactly what to love most love about this property. The 180 degree views of the Pacific, Lanai island, Molokai island, year round sunsets, and front row seats to some of the very best whale watching in all of Maui is mesmerizing. The outdoor lanai in itself is suitable for year round living with its handsome tile flooring, a large stainless Viking BBQ, a wet bar complete with mini fridge, and enough seating to host many of your favorite people.
This property is perfect for larger groups of families who want to travel together and spend their time in the sun in sumptuous accommodations all under the same roof. 
The massive lanai at Hokulani #650 most of which is covered has multiple seating areas between lounge chairs, couches, and a great set up for outdoor dining. Imagine yourself here during our winter where you will have front row tickets to Maui's favorite spectator sport, Humpback whale watching. What's most awesome about this covered lanai which is bigger than the unit itself- you don't pay HOA fees based on this square footage, just the interior space. 
Two of the master suites have unobstructed ocean views and direct access out to the covered deck. They are spacious, inviting, and I'd imagine sometimes it really be tough to get out of bed. 
One of the endearing touches in this particular unit is the custom Koa wood cabinetry, paneling on the subzero fridge and wainscoting throughout the entire unit. 
Travertine, Koa, stainless Viking Appliances, exotic granite, refined finishes abound. 
Massive Rental Income Returns in our Reserve Collection
Almost all purchasers at this price point utilize an all cash purchase. However, the buyer of Konea 651 did obtain a jumbo loan and why not with rates just below 4%-leverage it and pick up the vineyard in Sonoma as well.
Furthermore, many buyers at this price point will also chose to simply lock up and leave their properties while they are not in town. With this being said, if you would like to offset all of your annual operating costs as well as take a big chuck out of the mortgage-considering renting out one of the finest properties in Ka'anapali while you are not here.
Our Optimized Asset Preservation program, Maui Reality powered by Maui Resort Realty provides some of the very strongest net rental figures in the business with over 50 accounts at Honua Kai. We care for your home as we would our own.  In my independent study of this marketplace, I think an owner could very reasonably expect something between $350k-$400k in gross rental income on this property with measured owner use. This property fits perfectly into our new marketing program, the Reserve Collection at Honua Kai. 
Direct White Sand Beachfront Location in Ka'anapali, Maui
Honua Kai is the preeminent resort in all of West Maui (4 Diamond rating) with its direct beachfront location, newer construction (completed in 2008), and unmatched pools and amenities including the Ho'ola Spa.
Honua Kai is at the center of all that West Maui has to offer – 5 star restaurants, championship golfing, and world class white sand beaches with stunning natural surroundings. With Honua Kai's convenient central location, you will not need to travel more than 20 minutes in any direction for a complete and memorable vacation experience.
Honua Kai Resort and Spa was recently recognized by Conde Nast Traveler on their Reader's choice 2014 Gold List as a top 10 resort in Hawaii.
What we love about Honua Kai 
Honua Kai is the newest beachfront whole ownership condominium in West Maui, Hokulani was built in 2008 and Konea in 2009. Surrounding whole ownership buildings are 20-40 years older than Honua Kai.
Honua Kai is zoned for short-term vacation rentals – occupancy rates, average daily rates, and overall rental income have steadily risen throughout the years and are some of the very strongest in all of Hawaii.
The onsite Ho'ola Spa is a full-service spa with natural treatments using exclusively Maile organic products.
38 acres of direct oceanfront land – Honua Kai is one of the largest resorts in all of Maui, which allows its owners and guests to experience the sensation of spreading their wings and enjoying all the open space.
The onsite Aina Gourmet Market is a great place for sandwiches, fresh juices, a full-service coffee shop, and some basic sundries.
The 5 different pool experiences at Honua Kai have something for everyone and are a major reason guests return every year.
Duke's Beach House restaurant is directly onsite with excellent breakfast, lunch, and dinner service, and great local entertainment. Duke's also takes care of the poolside beverage and food service. I have eaten at many of the restaurants in West Maui and truly feel that Duke's is one of the best values in the entire area.
Snorkel through vibrant reefs steps from the resort. Additional instruction is available in the resort pool and diving directly in front of the resort.
Shopping center within walking distance: restaurants, supermarket, dive/snorkel rental shop.
'Beach Walk' connects Honua Kai to Whaler's Village.
Oceanside restaurants & bars within walking distance.
The quaint and historic town of Lahaina is 10 minutes by car.
Championship golfing, world class restaurants, and more stunning white sand beaches all within 20 minutes or less throughout West Maui (Lahaina, Ka'anapali, Napili, and Kapalua).
Honua Kai Resort Amenities
Residents and guests will enjoy the recent opening of the Ho'ola Spa which is located on the ground floor of the Konea tower. Ho'ola Spa offers therapeutic body treatments that combine the cultural attributes of the islands' unique healing traditions with the very latest advances in wellness. Services include massage therapy, body, skin and facial treatments, as well as, an innovative Himalayan Salt Spa.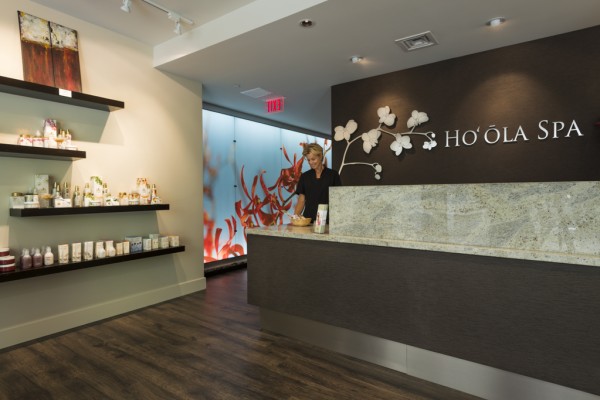 Also on the ground floor of Konea is the complex exercise and workout room (set to expand an additional 500 sq.ft. in the near future) offers an assortment of top-of-the-line workout equipment, stationary bikes, treadmills, elliptical, free weights and strength training machines. Located in Hokulani, the fitness classroom features a wide variety of daily classes for every fitness level.
The Best Pools of Any Resort in West Maui
One of the main attractions to Honua Kai are the 3 pools, 3 hot tubs, waterfalls, lazy river, and kids pools. All three spectacular swimming pools offer their own unique experience.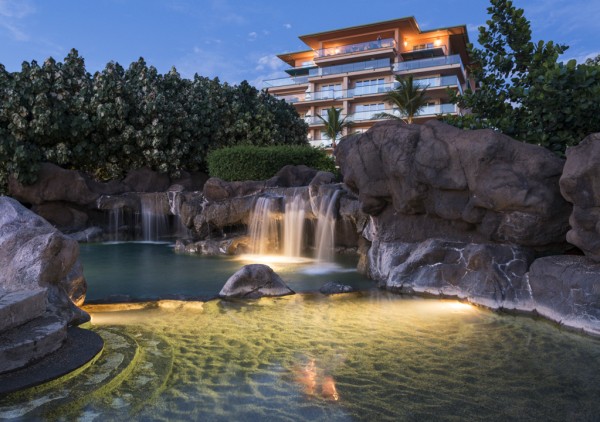 The formal pool is an infinity-edge lap pool featuring two Jacuzzi whirlpools and perfect ocean views.
The 'Ohana (family) pool features a one hundred and twenty foot water slide and a waterfall that cascades into the main swimming area. Natural lava rock forms an elevated hot tub that takes in the ocean views. The 'Ohana pool has a sandy beach and a shallow 'keiki' (kids) pool.
The river pool features a meandering river that flows through smaller swimming holes and waterfalls.
On-Site Dining Venues
Enjoy ocean view dining and stellar local music entertainment at Dukes Beach House located directly in front of the Hokulani tower. Dukes will also do poolside food and beverage service around the pools at Honua Kai and you can call in orders for pick up while staying in the room. Their offerings are tasty and affordable, they have service with aloha, and its tough to beat the location and ambiance. The cuisine is Hawaiian influenced with a focus on fresh, sustainable seafood and premium steaks.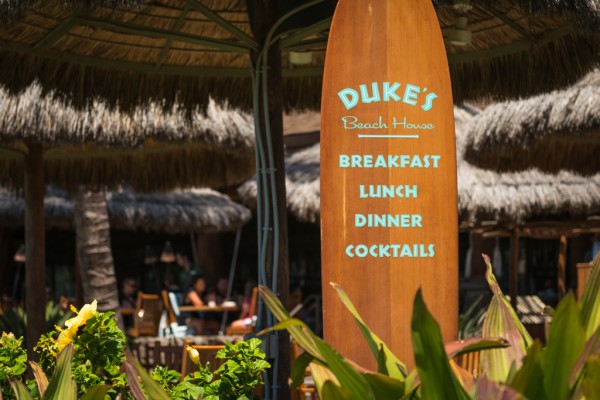 Also located in ground floor level of the Hokulani tower is Aina Gourmet Market which is a charming, rustic cafe with a full coffee bar; deli case of pastries, prepared salads, and snacks, hot panini sandwiches, and "zappers" for healthy grab 'n go meals.
In the event that you would like to do a little cooking of your own, in addition to the professional kitchen in Hokulani #650, there are also 8 ocean view grills throughout the resort that area available for all guests to use.
 Kaanapali North Beach
Kaanapali North Beach looking north towards the island of Molokai. 
The reef fronting Honua Kai is vibrant and has an amazing plethora of tropical fish, turtles, and in whale season I have seen a few only about 50 yards off shore. This stretch is very special to both me and my wife as I proposed to her on this beach and enjoyed steak and lobster at Duke's back in 2011. Proposal in paradise blog.  It is easy to understand why this is a special place for so many who come from across the world to be here. It's all about the memories made on Maui. I have been privileged to assist many buyer and seller clients at Honua Kai.
One of the several different pool experiences at Honua Kai 
Call Hokulani #650 your home away from home today
The evening inner courtyard view of the Hokulani tower. 
The Inside Track at Honua Kai
Honua Kai radiates with positive energy and I truly believe represents the optimal part-time ownership experience in all of Maui. Here is what one of my most recent buyer clients said after purchasing their second one bedroom at the resort: Konea #148 – The Last One Bedroom Developer Unit Sold at Honua Kai.
I am here to assist you in anyway that I can. I have represented 21 buyer/sellers at Honua Kai since 2011. I am an owner at Honua Kai, have run my own vacation rental program at this resort, and am now the Head of Accounts for Maui Resort Realty which has over 50 top performing vacation rental properties at Honua Kai. Please visit my blog entirely dedicate to Honua Kai that I have been writing since 2011 www.HonuaKaiBlog.com 
My own Honua Kai homeownership experience blog-Megan and Jeremy Stice are proud new owners at Honua Kai. 
Subscribe to my blog feed here: Subscribe to Maui Resort Realty » Jeremy Stice, R(B) by Email.
Aloha from Maui,
Jeremy Stice REALTOR (Broker #21286) Maui, Hawaii
Top 100 Realtor recipient in State of Hawaii 2014 & Top 50 in '15 
(808)281.2178 Direct
10 Halawai Dr. Suite #A-3 Lahaina 96761
Maui Resort Realty lives in Lahaina, Maui Hawaii