Like the popular saying, the devil is in the details. When remodeling a kitchen, all the small details can either transform your kitchen into a disaster or a unique masterpiece. The two most common kitchen design mistakes made by homeowners are; selecting too many beautiful design finishes and as a result they constantly compete or selecting finishes that blend in a blah… blah… way. Checkout our blog "how to avoid the top five kitchen disaster." Every small decision is important and inches you closer to the final outcome. To help you select the right countertop edge for your kitchen, we've put together a guide with pictures for you.
Kitchen Design Countertop Edges
Square Design Countertop Design Edge - Less is often more, this is perfect for a kitchen where the countertop is not the focal point. It's important to note that, a completely square edge can be extremely dangerous, maybe as sharp as a razor. It's highly recommended that all square-looking edges be rounded a bit. This would make the edge less sharp and prevent chipping/breaking. Sharp corners are easier to break than corners that have been rounded a bit.
Photo credit: http://nort.kitchenkarousel.com/granite-tile-countertop-design/
Eased Countertop Design Edge – Is a square 90 degrees edge with the corners rounded to reduce the sharpness.
Photo credit:Kelly, CKD, CBD, CR - http://www.kitchendesigns.com/how-to-choose-a-kitchen-or-bath-countertop-edge-detail/
Square and Mitered Countertop Design Edge – Have you ever seen a countertop that looks extra-thick?
Inside Designer Secret - it's not an actual extra thick countertop, it's called a mitered edge. What is a mitered edge? It's a countertop with a standard 2cm or 3cm thickness with strips around the exterior sides, making the slab look thicker than it actually is. This is a great idea that can be used to make your kitchen countertops standout, look thick and expensive. There you have it a square and mitered countertop edge design tip!
Eased and Mitered Countertop Design Edge - This is the same concept as the Square and Mitered edge but the main difference is that the edge and corners are rounded not square. Sounds simple right? This slight difference often has dramatic effect.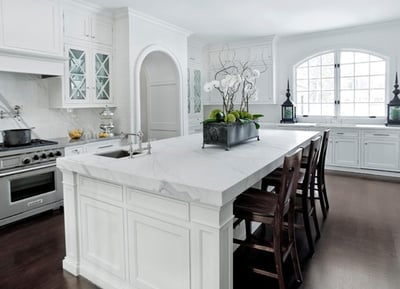 http://blog.galleriastone.com/blog/choosing-an-edge-for-your-countertop
Waterfall Square Countertop Design Edge - This is a popular trend in high end and luxury homes. If you would like to make your countertop or island the focal point of your kitchen, ask your home designer expert to order extra countertops to run vertically down the sides of the island. This could infuse luxury into an otherwise ordinary kitchen.
Photo credit: https://www.pinterest.com/pin/194851121354428564/
Bullnose Countertop Design Edge – This is a common and timeless favorite with rounded soft looking edge that could work and look great with almost any countertop material. It's easy to clean because there aren't any corners or grooves. Most parents find it kids friendly, because it doesn't have any sharp edges. A common complaint is that bullnose edge countertops are difficult to wipe crumbs from the countertop.
 Photo credit:http://www.countertopspecialty.com/countertop-edges.html
Demi-Bullnose Countertop Design Edge – The demi-bullnose edge is similar to the bullnose. The main difference is the round top with a sharp edge at the bottom. It's easy to clean because there aren't any corners or grooves; however the bottom edge has a point, so it can be spillage prone.
Ogee Countertop Design Edge – Adds an elegant touch and looks great in larger kitchens with a huge kitchen island. This design could make an island look like a statement piece.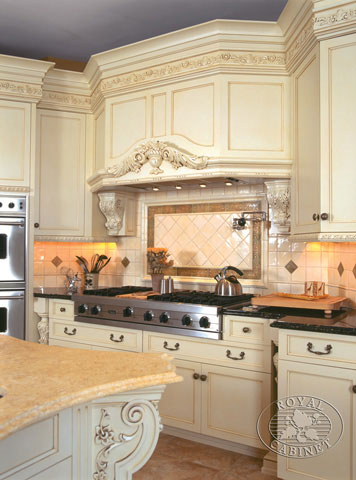 Photo credit: http://www.royalcabinet.com/
Beveled Countertop Design Edge – It has a clipped flat corner usually on a 45-degree angle. It has sharp edges, so it's not so kids friendly. It's prone to spillage as the bottom edge points down towards the floor.
Photo credit: https://www.pinterest.com/pin/306737424591297698/
Marine Countertop Design Edge – It edges has a raised built-up thickness, kind of like a hem for a dress.
Photo credit: https://www.pinterest.com/pin/419397784023675937/
Mix and Match With Unique Variations Countertop Design Edges – There are several options available. Ask your home design expert for a basic design, then try mixing and modifying two different styles to fit your perfect desire for something unique.

Photo credit: http://countertopinvestigator.com/47-granite-countertops/

What countertop edge design style do you have in your kitchen at home?
 What do you like/dislike about your countertop edge?
** As Always, Best Of Luck and Love Always **
xoxo Milan