I recently had the privilege to help a close friend of mine since pre-school at Haiku Elementary sell her property located at 784 Kihau Place in Haiku, Maui. I am grateful for many reasons: Aiko Da Silva and I went to the same Maui schools our entire lives together starting at Haiku Elementary onto Kalama Intermediate and then finishing up at high school at Seabury Hall preparatory academy.
Aiko is in the process of taking over the family business Chris Curtis Landscaping which has been one of the island's most well respected landscaping businesses which has been operating since 1993. This is another connection in that Aiko and I were both born and raised in Haiku and are both working in family businesses-my dad is one of the most well respected real estate brokers in the state with over 35 years of experience and service. 
I served as the buyer's representative for Aiko and her husband Patrick Da Silva who is from Brazil and now a lifeguard at nearby Hookipa Beach Park purchase the home in 2008 which was just following the peak of our market for $340,000. I just served as the seller's representative on the property and ended up selling it directly for $425,000 (100% of orignal asking price) to an all cash buyer. 
The sale of this home allowed the Da Silvas to build a larger home on more acreage to accommodate their growing family. I am excited for them in their transition to their new home.
It was very cool to help the buyers in this process as well. It was a local mother and son their first investment property together. As it turns out, the son who is a year younger than both Aiko and I also attended Kalama Intermediate- talk about coming full circle.  
784 Kihau in Haiku Sold by The Stice Team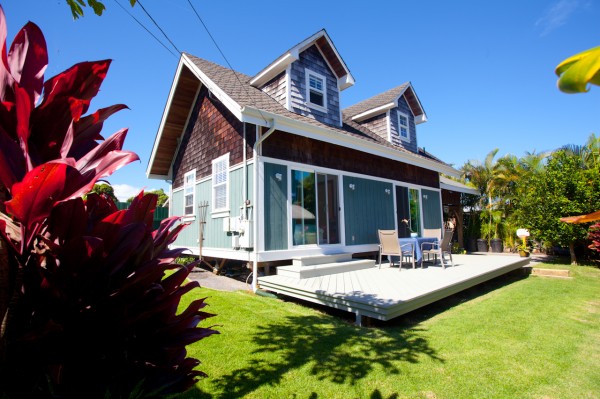 My cousin and business partner Tim put together a really nice professional video and property blog for 784 Kihau. Affordable starter home in Haiku on Maui for under $500K. 
A few words from Aiko Da Silva
"Jeremy Stice just helped my husband and I sell our first house in Haiku. 8 years ago he helped us purchase the same house. I have known Jeremy since preschool and we have remained friends throughout the years. He was our obvious first choice when choosing a realtor because he is a friend, though his knowledge of the house purchasing and selling process was impressive and made us happy that we chose him. We worked with him on setting the sale price perfectly so that it would sell quickly but also make us the maximum amount of profit possible. We achieved just what we wanted. Within three days we got a full price cash offer! Selling our house was a bit of a challenge because we have two young kids and my husband and I work full time. He worked around our schedules and made the process go as seamlessly as possible. I would recommend Jeremy Stice to anyone wanting to buy or sell their home!" 
Feeling grateful 
In my ten year real estate career I have helped people from all over the country and all over the world with purchasing and real estate here in Maui. I enjoy being in the position to do this every day and it is especially rewarding when everyone is so close to home and means so much to a dear friend of mine.
If there is anything I can do to serve you and your family with your real estate needs, I am here with open and capable arms  to do so. 
 Aloha from Maui,
Jeremy Stice REALTOR (Broker #21286) Maui, Hawaii
Top 100 Realtor recipient in State of Hawaii 2014 & Top 50 in '15 
(808)281.2178 Direct
10 Halawai Dr. Suite #A-3 Lahaina 96761
Maui Resort Realty lives in Lahaina, Maui Hawaii
Subscribe to my blog feed here: Subscribe to Maui Resort Realty » Jeremy Stice, R(B) by Email.