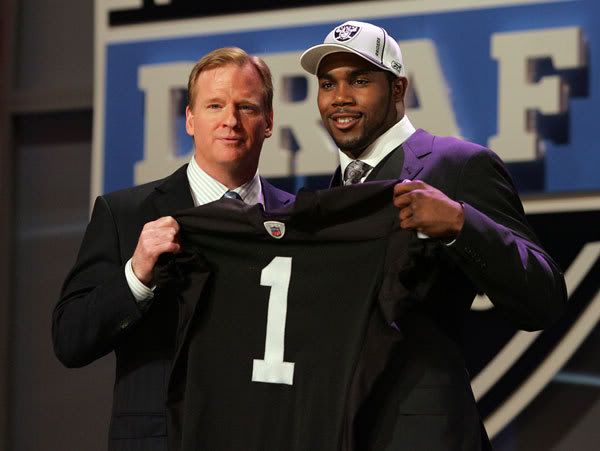 As i had predicted the Raiders chose Darren Mcfadden with the number four overall pick in this past weekends NFL draft. But i must say i am not happy with the other picks. Here is the full draft overview.
Raiders Draft Tracker
R P O POS. Player College
1 4 4 RB Darren McFadden Arkansas
4 1 100 CB Tyvon Branch Connecticut
4 26 125 WR Arman Shields Richmond
6 3 169 DE Trevor Scott Buffalo
7 19 226 WR Chaz Schilens San Diego State
The Raiders did great by picking the best athlete in the draft with their first pick and will surley kick start our bland offensive play. But overall we did a terrible job draft-wise , we had only five overall picks throughout the seven rounds. We drafted another Cornerback that we did not need and we drafted two wide recievers which at best only one will make the full roster. We needed more help on our defensive and offensive line as evidenced by our league worst 32rd ranking against the run. A outside linebacker was another glaring need that wasnt addressed. We released RB Dominic Rhodes and traded away CB Fabian Washington in order to leave some cap space. This draft is further evidence that owner Al Davis is still running the show which is just absurd. He does have a keen eye for talent but he is drafting as if it was 1967 all over the again. The game has changed 360 degrees since then. I just dont see any other quality free agents out there that are going to fill the gaps we possess.
If were GM i would of drafted an two offensive lineman, two defensive lineman and a Outside linebacker. The Raiders spent alot of money in the offseason on players such S Gibril Wilson, WR Javon Walker, DT Tommy Kelley, CB DeAngelo Hall just to name a few. The reality is that you can not buy a team, just ask the New York Yankees who have had the highest payroll in all of sports and zero championships to show for it.
How did your team do in this years draft?
Eddy Martinez
Nationwide Funding Group
Team Leader / Senior Loan Consultant
Office: 1-888-702-2225 x 115
Direct: 1-310-530-0917
E-Fax: 1-310-943-6551
emartinez@nationwidefgc.com