Nationally Home values continue to climb and are projected to increase by about 5% over the next twelve months. That is great news for anyone who owns a home. However, it could present a challenge for a family trying to sell their house.
Aloha, Lance Owens (RS) and Kimi Nagatoshi (RS) here with LUVA Real Estate, we have to tell you first hand, the statistics are worse here in Hawaii. In the last 45 days we have had 2 deals run into this problem and its easy to see why. Take a look at "North Kona - Median Sales Price"  April 2016 statistics compared to April 2015. We are up double digits - over 14%.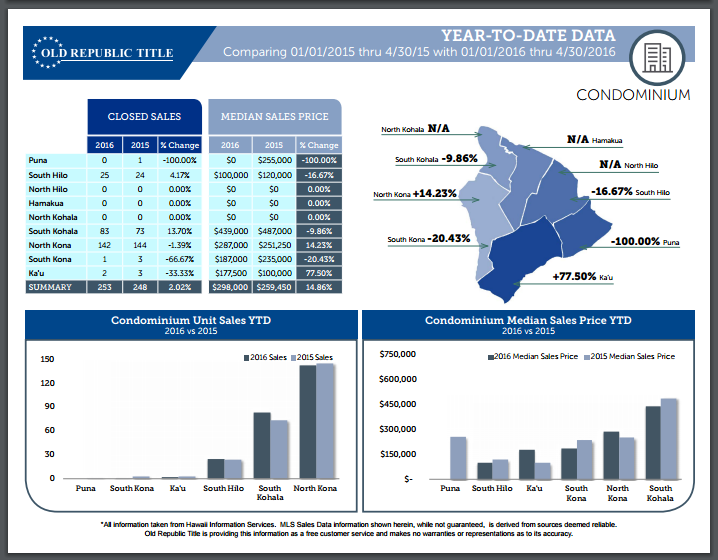 (Mahalo Old Republic Title Kona for the graphs above)
 If prices are surging, it is difficult for appraisers to find adequate, comparable sales (similar houses in the neighborhood that closed recently) to defend the sales price when performing the appraisal for the bank.
The National Association of Realtors (NAR) recently released information revealing just how prominent the challenge is in today's market.
And the challenge is deepening…
Every month, Quicken Loans measures the disparity between what a homeowner believes their house is worth as compared to an appraiser's evaluation in their Home Price Perception Index(HPPI). Here is a chart showing that difference for each of the last 12 months.
As we can see the difference has increased each of the last two months.
BOTTOM LINE
Every house on the market has to be sold twice; once to a prospective buyer and then to the bank (through the bank's appraisal). With escalating prices, the second sale might be even more difficult than the first. If you are planning on entering the housing market this year, let's meet up so I can guide you through this, and any other obstacle that may arise