California May Pay You To Short Sale          The Cost Of Waiting
Camarillo REO Coming To Market         What Is My Home Worth?
                                             Your Real Estate Update          Pricing Your Home To Sell!                               
   HyperLocal Updates       Sell, Remodel, Repair-Have Tough Questions?
Should They Stay OR Should They Go??  

The Clash


The latest polls in the upcoming British vote on whether to leave the European Union were negative for mortgage rates. The economic data released over the past week came in close to expectations and had little impact. Fed Chair Janet Yellen's testimony to Congress also had little effect. As a result, mortgage rates ended the week a little higher. 

The key "Brexit" vote to decide if the UK will exit the European Union (EU) will take place 

on Thursday

, but daily volatility in U.S. mortgage rates was seen during the week as new polling data became available. In anticipation of the possibility of a vote to leave and the economic uncertainty that would follow, some investors have shifted to relatively safer assets, including U.S. mortgage-backed securities (MBS), which has been good for mortgage rates. An actual vote to leave likely will increase the shift to safer assets. A vote to remain would result in a reversal, which would cause mortgage rates to rise. The latest polls indicated that those in favor of remaining in the EU hold a small lead. The outcome of the vote won't be known until after the U.S. markets are closed

on Thursday

. 

The recent housing data was encouraging. May sales of previously owned homes increased a little from April to the highest level since February 2007. Previously owned home sales were 5% higher than a year ago. Total inventory of previously owned homes available for sale rose slightly in May, but the current low levels remain an obstacle to home sales and have pushed up home prices. The median previously owned home price was 5% higher than a year ago, at the highest level on record. Properties stayed on the market for an average of just 32 days in May, the lowest level on record. Low mortgage rates and a solid labor market have helped offset low inventory levels to boost home sales. 

Looking ahead, the Brexit vote will be a major influence on U.S. mortgage rates. In the U.S., the report on new home sales will be released 

on Thursday

, and the report on durable orders will come out 

on Friday

. The report on pending home sales and the core PCE price index will be released on 

June 29

. Core PCE is the inflation indicator favored by the Fed.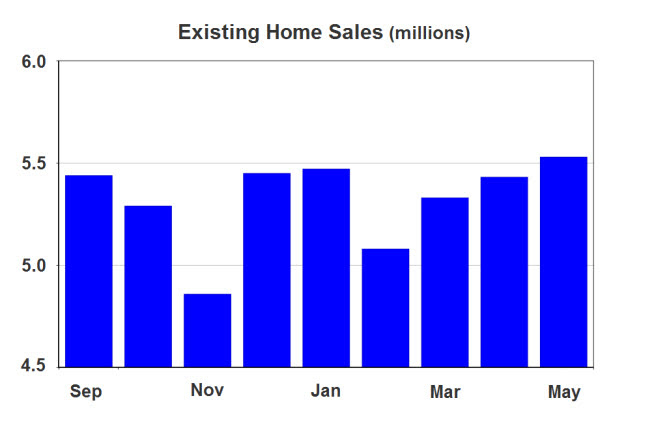 HyperLocal Market Updates             Chris B Johnson, REALTOR®, SFR®, CDPE®, CHS®
Chris B Johnson, REALTOR®               Featured Listing                   Time to Sell Your Home?  
Mortgage Pre Approval           Neighborhood Market Report          Time To Buy A Home