Many people visit Sarasota for the first time and fall in love with the beach.  Luckily, this happened to my parents and is ultimately the reason I now call Sarasota home.  In those days the beach was the main attraction.  Today, Sarasota is so much more.  Anyone who lives here or has visited lately knows that downtown Sarasota is a very cool place to call home.  You can get to Lido, Longboat and Siesta in 15 minutes or less.  You can walk to Whole Foods, dozens of great restaurants, Marina Jack and lots of entertainment options.  For those who can afford it, it's a place you might Love to Live.  
Finding the perfect home in an urban setting comes with trade-offs.  Those looking for a view might be more attracted to a condo. Some of the considerations might be higher association dues, lack of privacy, limited parking, more common area maintenance.  Another option although far more limited in supply are townhomes.  
To View all Townhouse Currently on the Market in Downtown Sarasota Click Here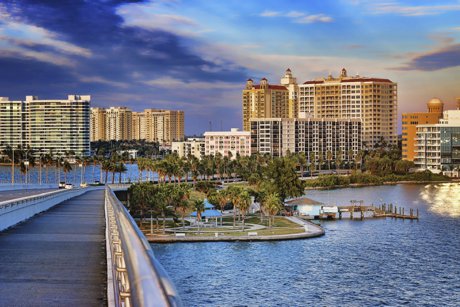 In the state of Florida a townhouse is defined as:
"Townhouse" is a single-family dwelling unit not exceeding three stories in height which is constructed in a series or group of attached units with property lines separating such units. 

A townhouse is more like a single family home in that you typically own the land beneath you compared to a condo in which you own the space between the walls.  Here are some of the upsides of living in a townhouse.
The privacy and convenience of an attached garage.

The ability to walk right out your door with pets and sometimes outdoor space.

Common walls allow for lower maintenance than single family homes.

Greater sense of security in some cases than a single family home.

In many cases lower maintenance fees and less common area amenities. 

In some cases, uber-cool roof top decks.
 
 Valencia at Rosemary Place
Valencia at Rosemary Place is a development by Icon Residential.  This particular property is on the lower end of the price range for newly constructed townhomes in Sarasota. They range in size from 1900-2500 square feet, 3 bedroom, 3 bath, 2 car garage.  The price range is from about $531,000- $717,000.  There are 30 total townhomes and the amenities are limited to common outdoor areas with seating and a fountain.  HOA fees are $447.00 monthly and include the building exterior , ground maintenance, pest control, trash, water and sewer. Valencia is located on the northern edge of downtown in an area of renewal called The Rosemary District.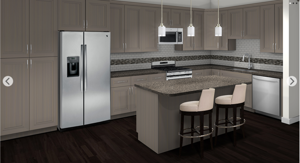 The Q
The Q is quintessential downtown living.  The location on Ringling is easily walkable to all of downtown Sarasota.  The architectually dramatic facade is well received in a city that embraces modern architecture.  The homes are block construction with a stucco exterior accented with brick, metal and tile. There are a total of 40 townhomes at the Q designed by Brent Parker of Parker, Walter Group and built by Storie Construction Group.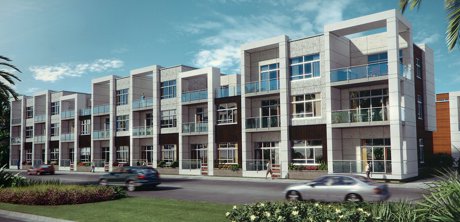 Striking design features include an abundance of large windows, terraces on every floor and glass railing systems on exterior terraces.  The feel is that of a multi-million dollar home on a smaller scale for urban living.  The solid core 8' doors make a big statement along with all of the finishes you would expect like caesarstone countertops, European Lube cabinetry, Bosch appliances and modern free-standing tubs.  Elevators are optional and homes come with either a one, two or three car garage.  
One of a Kind Kurt Lucas Designed Unit in the Q
JKL Design Group created a distinctive interior space that is modern and light.  JKL is behind many of the most prestigious developments in Sarasota, throughout Florida and the US.  On their website they site a sincere passion to provide every customer with a unique interior and exterior masterpiece.  I have had the pleasure of working with Kurt Lucas and his team and I can attest to the same.  JKL is the largest design firm on the west coast of Florida and you could not find a kinder more talented group of people to work with.  They really are exceptional. An overall impression of the Q is a lot of house or townhouse for the money.  2 bedroom 3 bath homes start at $680,000, 3 bedroom 4 bath at $990,000.  Both options are available with a two car garage.  Dues are about $269.00 per month.   
The Orange Club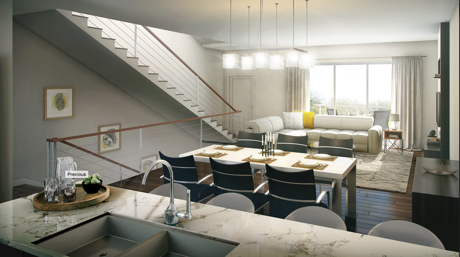 Orange club is located in the Burns Court area of downtown Sarasota.  Orange Club is a combination of 15 condos and 9 townhomes designed by architectural firm DSDG.  Orange Club differs from other projects in that there is retail space at the ground level of the condo.  There is a community pool and dues for the townhomes are about $2,100 per quarter.The developer is Vandyk and expected completion date is June 2017.
Townhomes start at $1.1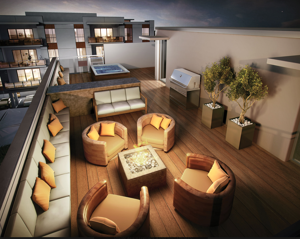 2300 Sq. Ft Under Air, 3613 Total
3 Bedroom, 3 Full, 1 Half Bath with a 2 Car Garage.
4 Living Levels including a Roof Top Terrace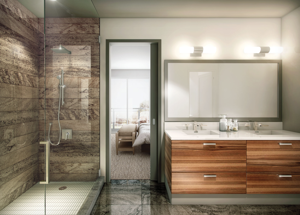 Allure 
If you budget reaches the 2 million dollar mark, you may be watching the sunset over the Sarasota bay from your rooftop pool.  Allure is new construction on Golden Gate Point.  Allure is a project with unprecedented standard features and options to customize on every level.  Clean lines and open spaces is characteristic of Allure.  The opportunity to live a downtown lifestyle in an expansive, multi-level home with a three car garage is truly unique. 

Allure Features Include:
Tankless gas water heater
Custom elevator in every unit
Elegant Hansgrohe fixtures and Duravit china sinks
Stately Victoria and Albert tubs
Caesarstone countertops
11' Ceilings
3-car garages
Custom 8-foot solid-core Interior doors
LED lighting throughout
High-impact double pane windows
Sub-Zero and Wolf appliances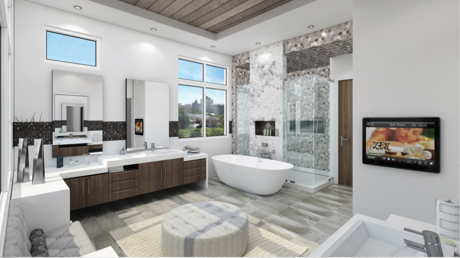 Allure townhomes are four story,
3 Bedroom, 3 Full Bath, 2 Half Bath  3 Car Garage, 4030 sq ft Under Air 6391 sq. ft. total.     
Only Ten Total Units
Construction Estimated to Start Early 2017.
Prices Range from $2.1 to $2.2
Dues are about $1800.00 per quarter and include a recreation area with community pool.
Developer Jebco Ventures is local to Sarasota with a long track record of successful residential and multi-use projects.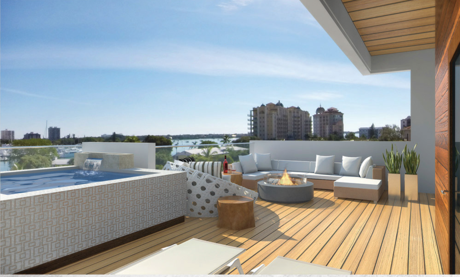 These are a few options in downtown Sarasota when it comes to townhouse living.  The lowest end of the price range is a little more than $500,000 and the high soars into the millions with unprecedented standard features and the option for a rooftop splash pool. The beautiful thing is buyer's are in the unique position to buy new construction with existing models in some cases to tour and maybe even the option to customize.  Check out this link for a map of the latest Downtown Sarasota new development.  There are a few resale options that come up from time to time as well. Townhouse projects are not as plentiful as condos and supply and demand helps to keep their values strong.  Whatever you're looking for I'd love to help you find a home you love.  
Premier Sotheby's International Realty
941.724.6969