I was speaking to a friend of mine that is trying to jumpstart his business. He's run into some rough times and given the current state of the economy, I know that things are hard for a lot of people. However, this friend of mine, complains that he never has any money, he can't pay his bills, and that life, in general, is tough. I can empathize. Being in sales, the slow periods can be brutal. He's complaining that he can't acquire the financing he needs to get some new equipment and hire additional help to grow his business. So, I segue into what I do: Credit Repair. Before I can get started, he tells me, "James, I can't afford it." This is a guy that spends about $50 a night drinking his sorrows away (granted, I like the occasional greasy burger and draft myself after a game of pool) and he's a poker buddy of mine that I've seen drop wads of cash onto the felt. I'm not judging my friend, mind you, but realize that like many people, the COST of something (even if they don't know what the actual cost is) hinders him, but doesn't even think about the money he's throwing away on frivolous diversions and high interest debt. As you can see on the graphic to the right, I've broken down the cost of bad credit. While this may not pertain to everyone, it's a good example of how much money bad credit costs an individual.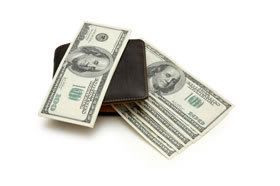 Besides the high cost of extremely high interest rates, bad credit takes more money out of your wallet:
Cell phone and home phone deposits and fees
Higher insurance premiums for auto and home insurance
Additional set up fees and deposits for gas, water, and electric service
Having to utilize payday loans for emergency reasons rather than having an emergency fund saved up or a credit card set aside for these purposes
Inability to open up a Free Checking Account and resorting to a DEBIT card that you have to pay a monthly fee or a per transaction fee
Inability to obtain financing whatsoever without collateral or money down
There's plenty of reasons why people end up with bad credit. There's no reason why people have to continue to live with bad credit. We can help restore your credit, help you create a budget, educate you on how to maintain and improve your credit, and help you reestablish yourself so you can enjoy the benefits of living with good credit. While our pricing is determined on a case by case scenario, one guarantee I can make is that everyday you do nothing to improve your situation will cost you more than my program in the long run. The savings you will get in your first year alone will more than pay for your investment to make this positive change in your life. Plus with a money back guarantee, what do you have to lose but bad credit. After all, it's your hard earned money we're talking about. Maybe I'm a little crazy, but it just seems to make sense for you to keep most of it.