Usually when someone buys a property.  They do not pay enough attention to the quality of the roof.  One of the most neglected aspects is the layers of shingles of a property with a composition roofing system.  
Please see the following picture
Do you see how many layers of shingles there are in the picture above?  In a one layer roofing system you will see two layers on the perimeter.  This is because there is a layer of extra shingles on the perimeter of the roof.  This extra layer is called "starters", it's for added protection so rain does not go in into the roof and bring moisture into the roof.  So in the above picture you will see four layers, meaning the roof actually has three layers. 
Why is this important to know?  First, the home inspector will see this, and that is a sign that there are issues with the roof.  Maybe you can tell that is does not look right.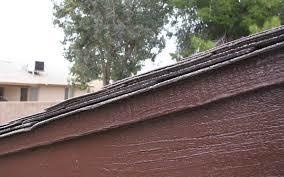 In many, cities it is against city code to have more than 3 or more layers.  
Also, consider the extra weight on the building.  Every square, which is a 10' x 10' area weighs about 165 pounds of one layer of shingles.  So in the above house instead of weighing 4000 pounds, the roof will weigh around 16000 pounds.  This also affects the ventilation -- meaning you need to spend more money to keep the house cooler.  The heat also creates problems on the roof.  Particularly on the decking.
It has happened so many times.  A contractor gives a price, opens up the roof, calls the real estate investor, saying the price of the job will have to increase.  Why?  Because the decking has gone bad.  So, always be prepared for bad decking if you buy a property with shingles on the roof with multiple layers.  
So, a roof with multiple layers is best to consider that you will be paying almost double to replace the roof if the decking is bad.  Do not let the contractor just tell you, ask for pictures or be there yourself.  Take pictures of the work done to show the home inspector. The good news is it's still cheaper getting the exterior done compared to interior work when flipping houses, and it is less of a headache also. 
There is an important exception to this.  If you will be buying a property to rent to tenants, and there are no leaks are no leaks the building, and there are less layers than allowed by code, and roof looks in decent condition.  If you are on a super tight budget, just doing a layover is an option.  This option should not be just jumped into.  Its main advantage is will be cheap in the short term, till you make your investment back, and then in later, you will have to change the whole roof, and maybe by that time the decking also.  I would only recommend this if there is only one layer already there, and there are no leaks.  It would look like this, and will last as long as any other roof.
8173816855
Helping real estate agents professionally with roofing issues at a low price.  DFW Best Roofing also does Fence, siding, patio, gutters, and exterior paint.