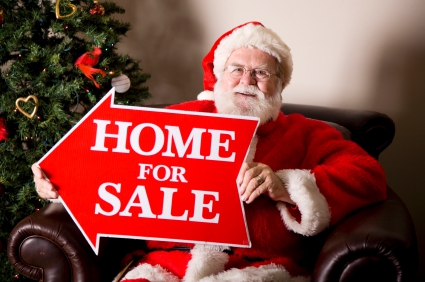 I get it… who wants to move during the Holidays? No one… but that is exactly my point. This time of year, I hear from a lot of sellers, "We want/need to Sell, but we want to wait until after the Holiday season." By waiting until the new year, you are doing your self a disservice and loosing money at the same time. So, let's jump right into this:
People who are looking at homes during the Holidays are more serious buyers. Usually, they are moving because they have to… not because they want to.

Serious buyers have fewer houses to choose from during the Holidays… and less competition means more money in your pocket!

Since the supply of listings will dramatically increase in January, there will be more competition… therefore, less demand for your home! Less demand equals less money for you!

Houses show better when they are decorated for the Holidays. It adds eye appeal… or as I call it, Buy Appeal. The atmosphere gives prospective buyers the "Warm Fuzzies" and makes it easier for them to visualize your home as their next home!

Buyers are more emotional during the Holidays… as in the Giving Spirit. They are more likely to pay your price!

Many buyers have more time to look for a home during the Holidays than they do during regular work works!

Some people MUST buy before the end of the year for tax reasons!

January is traditionally the month for employees to start new jobs. Since transfers cannot wait until Spring to buy, you must be on the market now to capture that segment of buyers.

You can still be on the market, but have the option to restrict showings during specific dates and times during the Holiday season.

You can list and market you home now, get it under contract for more money and allow for a closing after Jan 1, or allow for extended occupancy or rent back until early next year.

By selling now, you may have an opportunity to be a non-contingent buyer during the Spring, when many more houses are on the market for less money! This can allow you to sell high and buy low!
As you can see, there are many reasons why it's a smart time to Sell You Home Now! Having the right listing agent that knows how to position your property and take advantage of seasonal swings in the market can make all the difference when trying to net the most money on the sale of you home. Call me today to see how fast & for how much your home can sell for, or CLICK HERE for an instant evaluation!
If you have any questions regarding Selling Your Home, Jacksonville Real Estate, or Buying a home in Jacksonville, please do not hesitate to call (904) 625-7455 or email me at mlinkenauger@yahoo.com with your questions. My team and I look forward to serving you!
Mike Linkenauger LinkUp Realty (904)625-7455