I know, I know.. it's not even Thanksgiving, but I bet many of you actually already have your Christmas Tree up and just LOVE this time of year. If you're planning on "tripping the 'Christmas' light fantastic" this year, you won't want to miss these neighborhoods and amazing displays all over the L.A. area this year.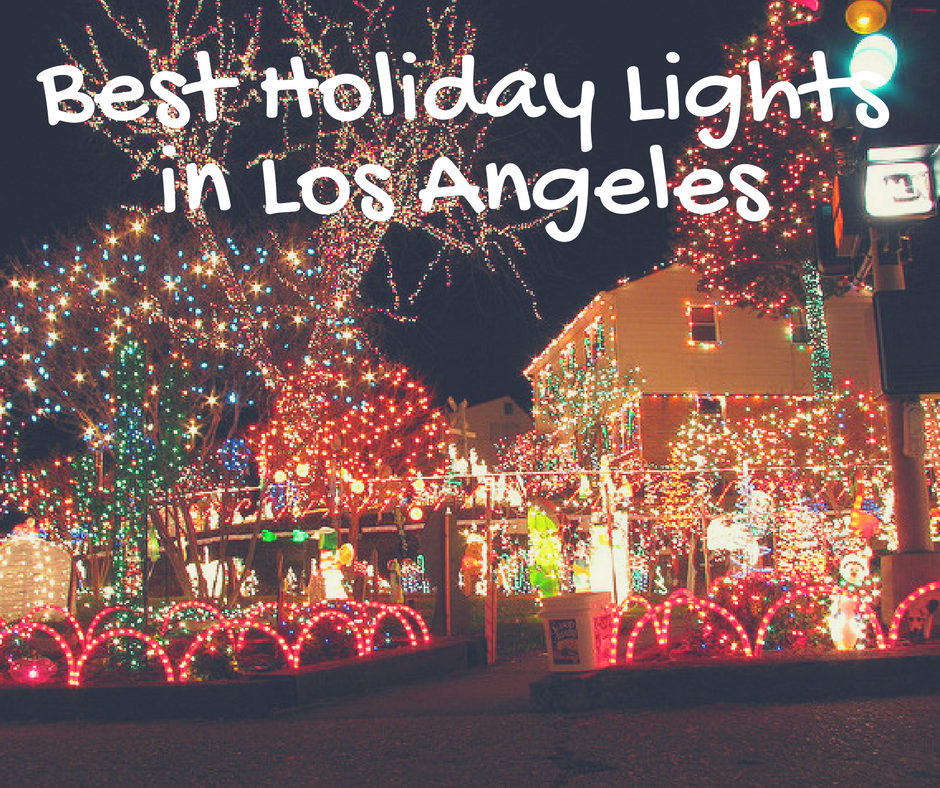 Community Light Displays
The Getty Center is located at 1200 Getty Ctr., Drive in Los Angeles and it comes alive each year with a beautiful holiday display on Saturday nights beginning the day after Thanksgiving.
Griffith Park, located at 5333 Zoo Drive in Los Angeles, the holiday light festival is something not to be missed (this used to be called the LA County zoo lights)
The Grove located at 189 The Grove Drive is a beautiful Christmas tree display with magical snowfall, Santa's cottage and lots of holiday lights and entertainment.
Rodeo Drive, located at 248 North Rodeo Dr. in Beverly Hills. This beautiful light display brightens up each shop window with gorgeous poinsettias down the center divide and luxurious lights dressing out the Region Beverly Wilshire. You certainly won't want to miss a stroll down the street during the holiday season.
Westlake Village Inn at 31943 Agoura Rd. in Westlake Village. A little farther out there but thousands of twinkling lights will certainly bring a smile to your face set on 17 acres in this beautiful little town just outside of the city.
Winterlit Celebration in Santa Monica on Wilshire Boulevard and 3rd St., Promenade. There will be beautiful and elaborate light displays of Christmas trees, icebergs and icicles surrounding carolers, Santa Claus and the snowfall on opening day.
Christmas Tree Lane located on Santa Rosa Ave. between Woodberry Avenue and Altadina Drive. This mile long driveway gets blanketed in lights each holiday and transforms into Christmas tree Lane.
Dell Ave. in Venice. This boardwalk gets it transformed into a beautiful Christmas light display that lines the bridges each year. Take a stroll through the shimmering and neighborhood for a beautiful and unusual light display.
Sleepy Hollow Extravaganza in Torrance. Just off Robert Road in the Pacific Coast Highway with a variety of surrounding streets, you'll see thousands if not millions of lights overflowing from every home starting in early December. The display runs every night from 6 PM to 10 PM until New Year's Day.
The Marina del Rey boat parade happens of Fisherman's Village on Saturday, December 10. This small town fishing village is celebrating its 54th anniversary of the Boat Parade. Coming up around Fisherman's Village or Burton Chace Park to watch over 70 boats glide through the Marina dressed in their holiday best. The event begins at 5:55 PM with fireworks and boat start to prorate at 6:00 PM.
Festival of Lights at the Mission Inn located at the Mission Inn Hotel & Spa in the Inland Empire. With over 400 animated figures and thousands of lights, this traditional and unique Christmas event will draw you in and keep you amazed for over six weeks. It begins on Friday, November 25 through January 7.
Individual and smaller neighborhoods.
Balian House in Altadena is home to the famous ice cream manufacturer and is a fantastic estate on over 3 acres decorated with 10,000 lights and numerous holiday figurines. This display is located at 1980 Mendocino Ln.
Christmas Tree Lane at DC Avenue and W. Willow St. in Long Beach. From mid December through the end of the year, Daisy Ave features 23 lighted and decorated Christmas trees with musical entertainment on the weekends. This event dates back to 1953 and is a collaborative event between the city and the neighbors.
Candy Cane Lane located in Woodland Hills on Lubao and Oxnard Street. The homeowners behind this display take it to the extreme for over 60 years. These eight blocks are simply covered in lights starting the second Saturday in December through the end of the year.
Whatever you do, make sure you get out there and enjoy a little of the Holiday Cheer! Find a neighborhood you just love? Give us a call and let's see if there are any homes in the area that might fit your perfect dream home. Have fun! Be Safe and Happy Holidays!
Image adapted from Terren Flickr - Post originated here http://www.ronanddavid.com/2016/11/21/best-places-to-see-christmas-lights-in-los-angeles/