John Burns held his annual real estate convention the day after the election. The 43 speakers put their politics aside and educated the audience on what they were witnessing in their business. It was a meeting all 196 will never forget.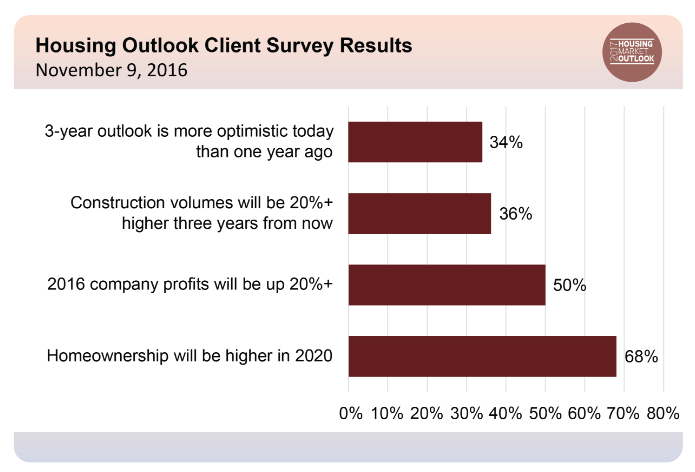 An anonymous poll was held. The poll consisted of 32% home builders, 21% private equity investors, 20% land developers, and 9% lenders. The remaining 18% were building products companies, rental landlords, and a few service providers. Using generational names that categorize people by decade born, 2% were 1940s Achievers, 16% were 1950s Innovators, 42% were 1960s Equalers, 26% were 1970s Balancers, and 13% were 1980s Sharers. Their Presidential vote was almost equally split three ways between the two candidates and the Other / Did Not Vote option.
Here are the results of their poll:
Very profitable year in 2016. The housing industry has had a great year. Half the companies expect to earn at least 20% more this year than last year, and 41% expect to earn about the same this year.
3-year outlook similar to last year. The executives' 3-year outlook has not changed much from one year ago, with 34% more optimistic than one year ago, 29% less optimistic, and 37% feeling about the same.
Slow, steady growth ahead. Most expect the industry to keep growing slowly over the next three years, with 36% projecting single-family construction volumes to be 20%+ higher in 2019, 33% expecting volumes to be 10% higher, 19% expecting the same level of activity, and 12% expecting a decline.
Rising homeownership. A full 68% of participants expect homeownership to be higher than today—a view that we find extremely optimistic even for homeownership bulls. Two relatively certain conditions will hurt the homeownership rate: 1) strong household formations (the denominator in the calculation) and 2) a substantial increase in deaths/assisted-living-facility occupation by people who have an 80% homeownership rate. We still expect 16 million more households to become homeowners over the next 10 years, with a very strong preference for the latest technologies and floor plans.
Single-family rentals are the best investment. The favored risk-adjusted industry investment is single-family rental housing, attracting 38% of the vote, followed by 28% for raw land entitlement, 17% for home building, 9% for buying building products securities, and 7% for buying home builder stocks.