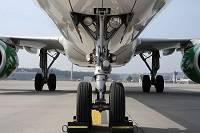 Reno Tahoe International added another direct flight to its roster recently.  JetBlue flies directly from Reno to Long Beach and New York.  Four different airlines provide direct services to LAX.  Southwest regularly schedules direct flights to Oakland.  Volaris provides international non-stops to Mexico.  As of last week, Delta now provides a non-stop to and from Atlanta.
Reno Tahoe International Airport News

Exactly one week ago, Delta Airlines took its inaugural non-stop flight from Reno Tahoe International Airport to Atlanta.  This gives more out-of-town skiers an opportunity to fly in to our Reno community to enjoy the great skiing at Lake Tahoe resorts.  It also allows more people to come visit relatives who move here for work.  As more companies relocate to Reno real estate, they bring workers with them.  Those workers have families that want to visit them.  More people translates to more revenue for City coffers.
Currently, the RTIA estimates that they generate approximately $2 billion a year to the Reno economy by bringing people into the area.  They handle traffic for over 100 flights coming in and out of the airport every single day.  This includes almost two dozen non-stop flights throughout the country and beyond.  
Reno Tahoe International's Long-Term Goals
The Reno Tahoe International Airport hopes to be expanding their non-stop services into Canada soon, with their sights set on Calgary and Vancouver.  They're also looking to add direct flights to Tijuana and Mexico City as well.  Inside the US, officials want to include Boston, Houston and Washington DC on their non-stop schedules.
Other services under the RTIA's purview include the Reno-Stead Airport.  Here, they work with NASA to provide research and technology for drones and unmanned aerial vehicles (UAVs).
Expanding service means expanding the airport itself.  To handle the potential traffic in the future, RTIA is crafting a 20 year master plan.  They expect the process to take approximately 16 months of planning and cost almost $2 million.  The FAA's Airport Improvement Program grants the RTIA $1.4 million of the cost.  Meanwhile, the rest will be handled with funds generated from the Passenger Facility Charge.  That means no Reno tax dollars will be necessary for these improvements.
Charlene Hamilton, Your Reno Real Estate Specialist 
Originally posted on my Reno real estate blog here: http://www.relocationtoreno.com/2016/12/27/reno-tahoe-international-adds-another-direct-flight/.