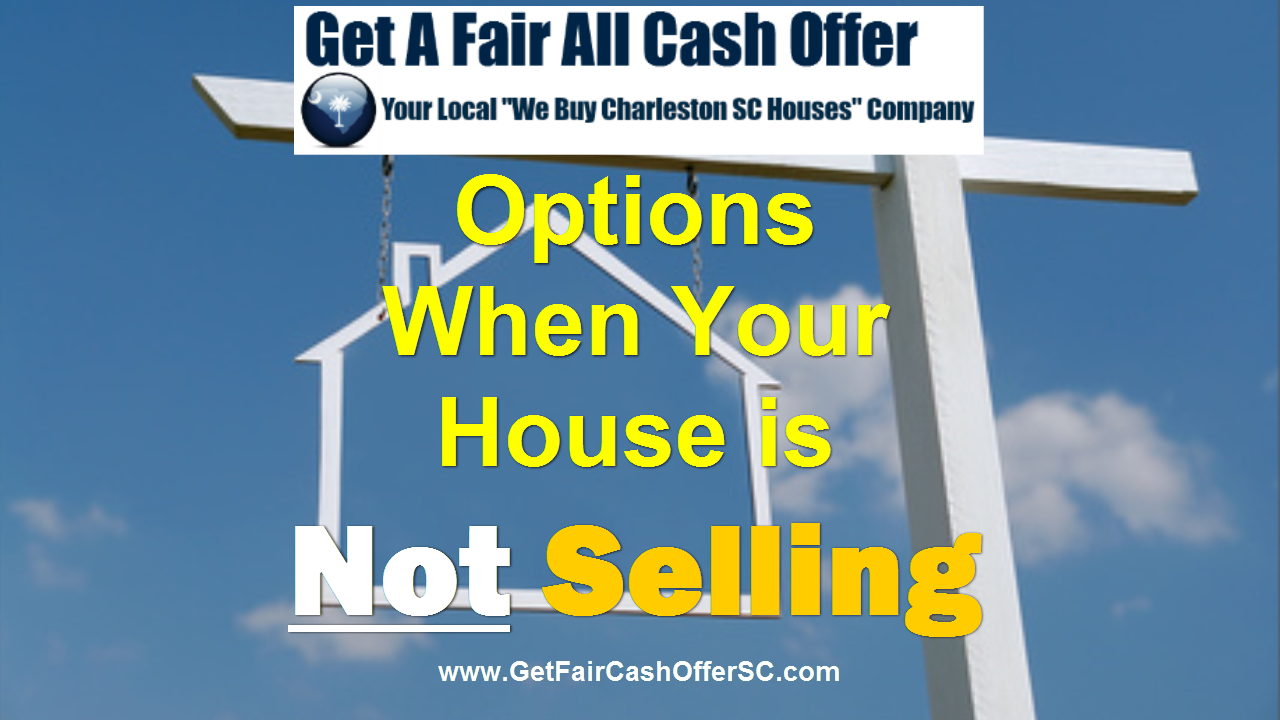 Not all home sellers have the option to wait until their house sells. There many situations that require a fast sale of a house. But what if your house is not selling? What are the options?
In a perfect world, selling your home fast should be as simple as putting up a 'For Sale' sign in the front yard, having someone knock on your door, they look at your house and pay your asking price.
Unfortunately selling a house fast for your asking price, though it does happen, is more of a rarity than the norm. If your house needs repairs or major appliances are out of date, in not so good of a location or maybe it's plain ugly, your house may stay on the market longer than others.
There are many different situations that force a home seller into selling a house fast. Relocation, double house payments, behind on payments, inherited property are among a few. No matter the situation, if you require a fast house sale, but your house is not selling, below are a few options we hope will help.
6 Options to Consider When Your House is Not Selling
1) Wait It Out
If you cannot afford to sell your house for less than you paid and you can afford it, wait it out. The right buyer will come along eventually.  For anyone who is selling a home, it's always best to have a plan in place if your house takes longer than you anticipated to sell.
2) Rent it Out
Become a landlord and rent out your property. This is one way to make sure the bills get paid. However, there is a lot to know about becoming a landlord and it may not be for everyone.Renting out your home carries several associated costs that you may not have
Renting out your home carries several associated costs that you may not have thought about. Homeowner's insurance, capital gains, finding tenants, the screening process will all cost time and money. Finding the right tenant for your home could be just as difficult as finding a buyer.
Renting is a popular choice for when a house is not selling but be sure you are well known to the laws, rules, and regulations in your area before your rent our your house.
If you are not interested in becoming a landlord, contact us! We help homeowners just like you who when a house is not selling and are looking into the possibilities of renting out a property in the Charleston, SC area. Talk to us about rent to own to get that house off your back!
3) Vacation Rental
Becoming a landlord is not everybody's cup of tea, so to offset some of the costs consider renting your home to vacationers. Listing your home as a vacation rental can help you to ride out the market slump until you are able to sell.
If you utilize your home as a vacation rental often enough that it qualifies as an income-producing property, and you end up selling the property before the market recovers, in many cases you can claim that loss on your taxes.
4) Short Sale
A last-ditch option that will get you out of the house is a short sale. This is when you and your lender would agree to sell your house at a greatly reduced price, just to get it sold. A short sale can have long-lasting financial consequences when the deficiency is not forgiven. It can damage your credit score, although not as much as a foreclosure, which is often what a short sale attempts to avoid.
5) Foreclosure
In some cases, it may appear as though foreclosing on your house is your only option. Though it may look like foreclosure is the only option when times are rough, try at all costs to avoid a foreclosure. A foreclosure can have long lasting impacts that are far worse than working out other options to getting the house out of your name.
6) Sell to a Real Estate Investor
Before you consider foreclosure, if you do not want to rent out your house, make it a vacation home, and can't afford to wait it out, perhaps selling your house to a real estate investor can be a better solution to selling your house.
Do not think that if you sell to a real estate investor that you have to sell at a loss. In many cases, depending on your situation, the money you save in holding expenses alone can make it a wash.
Real estate investors also have many options that are not available when selling conventionally. For example, how about some cash up front and take the rest in monthly or even yearly payments? There are ways to make selling your home to a real estate investor to make this a win-win situation for everyone.
If your Charleston, SC area house is not selling, complete our online home seller questionnaire today or call (843) 881-7171. We specialize in helping people out of their house selling challenges. We can buy your house or rent out your house in any area, any location and any price range throughout the Charleston, South Carolina area!
House not selling? We can help!
We Are The Mt Pleasant SC Real Estate Investment Company
Serving the Charleston South Carolina Community since 2002.