December 2016 home sales in the Ballantyne area of Charlotte, North Carolina (28277 zip code) ended the year on a high note with home prices up, inventory down, pending sales up.
The average sale price of Ballantyne area homes increased by 4.5% to just under $349,000 as compared with the same period one year ago. 
Average days on market for property listings dropped to 32 days from 42 days just one year ago--a 23.8% improvement over the same period last year. Median days on market also dropped by 29.4% to 12 days in December 2016. 
Average price per square foot increased by 5.6% to $133/square foot in December 2016 versus the same period in 2015. Pending sales were up 3.6% in December versus the same month last year, while December closed sales  were up a scant 0.8%. The lack of inventory (new listings were up slightly at 3.1% in December) has definitely impacted contracts and closed sales.

The number of showings per listing and the number of showings until pending contract per listing. During December 2016, listed homes averaged 10 showings (up 8.7% versus December 2015) and 24 showings until pending contract (no change versus the same time period one year ago). Given the reduced number of available homes for sale, it's not surprising that those homes listed get considerable "traffic" prior to going under contract.
The median percent of original list price that sellers received for their homes was up 0.6% compared with last year at 97.9%, showing how little negotiating room there is in the 28277 zip code for Ballantyne area homes.
New listings increased marginally by 3.1% versus December 2015 ~ barely relieving the strain to a high demand market starved of available inventory. The Ballantyne area's months supply of homes remains at below two months at 1.9 months (down 17.4% versus December 2015). 
Without doubt, it continued to be a true seller's market in the 28277 zip code and very competitive, with many homes selling within days of being listed for sale, and with little indication that this will change in the first months of 2017.

The strong housing market we saw in Ballantyne area throughout 2016  continued into the last month of the year, as Ballantyne area homes continued to sell, sell faster, and sell for more money. 
Ballantyne Area Local Market Update - December 2016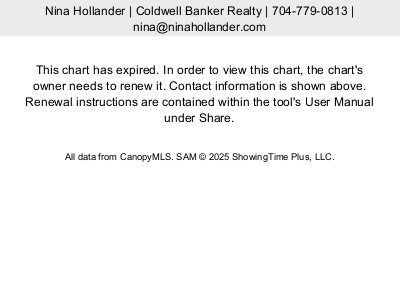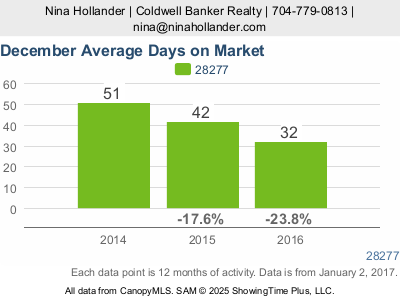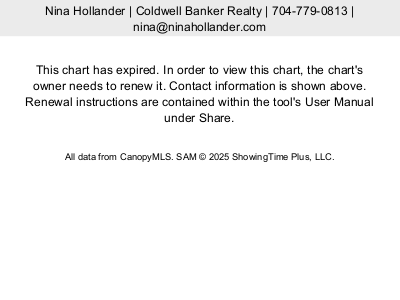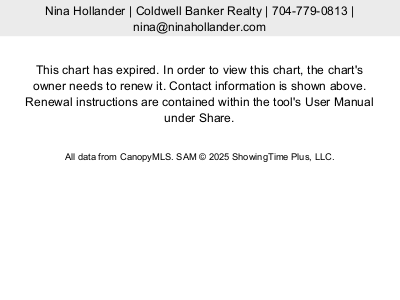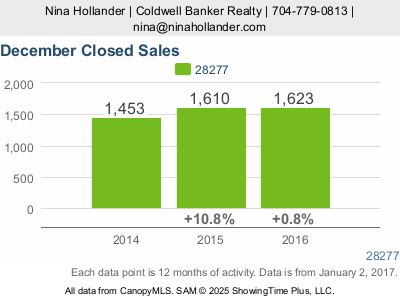 SEARCH ALL BALLANTYNE AREA HOMES PRICED FROM $100,000-$250,000
SEARCH ALL BALLANTYNE AREA HOMES PRICED FROM $251,000-$500,000
SEARCH ALL BALLANTYNE AREA HOMES PRICED FROM $501,000-$1,000,000
SEARCH ALL BALLANTYNE AREA HOMES PRICED OVER $1,000,000
SEARCH ALL BALLANYNE AREA TOWNHOMES FOR SALE
BECOME A BALLANTYNE AREA MARKET INSIDER FOR FREE
WONDERING WHAT YOUR BALLANTYNE AREA HOME IS WORTH?
 Want to stay on top of the market trends in your Ballantyne or Charlotte metro neighborhood?
Sign up for your FREE Market Snapshot. You'll recieve the latest trends for your neighborhood for sold homes, properties for sale, inventory counts, and even "days-on-market". You can also view information regarding schools and community.
Previous Ballantyne Area Housing Market Updates:
This Charlotte, North Carolina real estate monthly update for Ballantyne is brought to you courtesy of Nina Hollander and Carolinas Realty Partners, RE/MAX Executive Realty, your Charlotte metro area real estate consultants. 
If you are considering selling or purchasing a home in the Charlotte metro area, I would love an opportunity to earn your business, exceed your expectations, and to prove to you that:
 "The Right Broker Makes All The Difference."