December 2016 home sales in the Waxhaw area of the Charlotte, North Carolina  metro area (the 28173 zip code--encompassing the three towns of Waxhaw, Marvin and Weddington)--continued on the strong path we've seen all year long with both closed and pending sales up by double digits in December 2016, closing the year out on a high note.
The average sale price of Waxhaw area homes increased in December 2016 by 8.1% to just under $434,000 versus December 2015. Average sale price was also up versus November 2016.
Average days on market for property listings dropped by 5 days to 67 days, a 6.9% improvement over the same period last year.  Median days on market also dropped 9 days to 27, a 28.9% improvement in December 2016.
Average price per square foot increased by 7.6% to $127/square foot during December 2016 versus December 2015.
Closed sales in Waxhaw/Weddington/Marvin areas increased double digits by 16.0% in December 2016 as compared with December 2015.  Pending sales were up 17.9% versus December 2015 with a huge 83.0% increase in new construction pending sales versus a 2.3% increase in pending sales of resale homes. Clearly, new construction is very much a driving force in Waxhaw area home sales.
The average percent of original list price that sellers received for their homes was 96.2%, showing little negotiating room for Waxhaw area homes for a second year in a row.
The Waxhaw area's months supply of homes was down 12.1% to 5.1 months with new listings  up 12.6% versus December 2015. If you factor out new construction, the month's supply of homes is only 3.4 months, down 19.0% versus December 2015. It's also worth pointing out that new listings of resale homes were down 1.4%, so virtually all the new inventory is new construction (up 68.0% over the prior year), where average sale prices were just over $513,000 in December 2016. The average sale price of a new construction home was about $85,625 higher than than of a resale home in December 2016. December 2016 new construction homes sold at $5,258 higher than just the previous month.
Waxhaw/Weddington/Marvin Area Local Market Update -
December 2016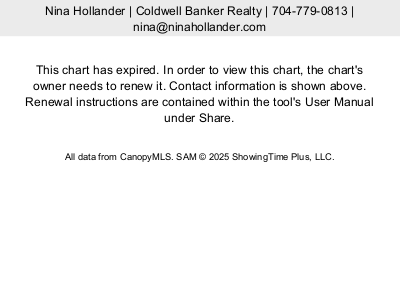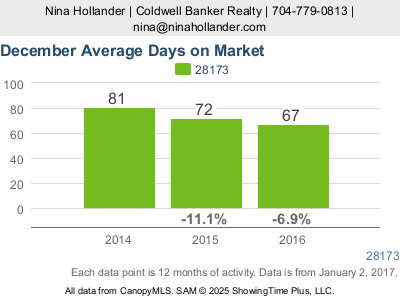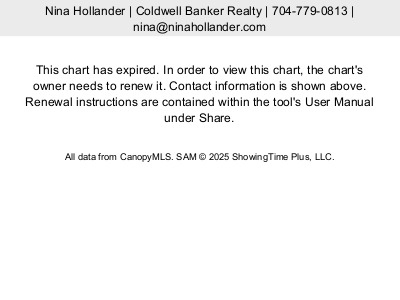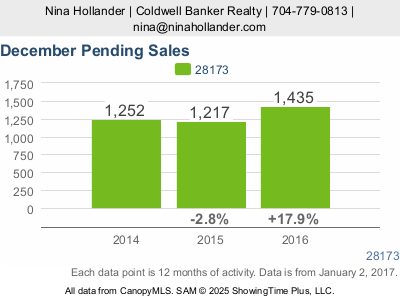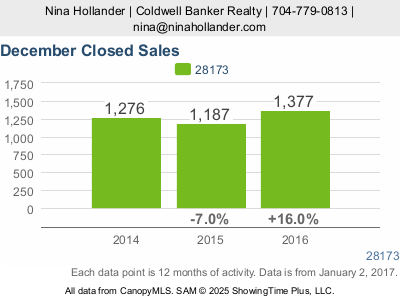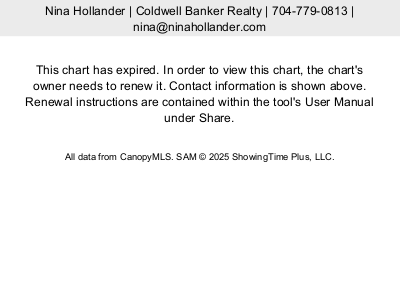 SEARCH ALL WAXHAW AREA HOMES PRICED FROM $100,000-$250,000
SEARCH ALL WAXHAW AREA HOMES PRICED FROM $251,000-$500,000
SEARCH ALL WAXHAW AREA HOMES PRICED FROM $501,000-$1,000,000
 SEARCH ALL WAXHAW AREA HOMES PRICED OVER $1,000,000
SEARCH ALL WAXHAW AREA TOWNHOMES FOR SALE
BECOME A WAXHAW AREA MARKET INSIDER FOR FREE
WONDERING WHAT YOUR WAXHAW AREA HOME IS WORTH?
 Want to stay on top of the market trends in your Waxhaw, Weddington, Marvin or Charlotte metro neighborhood?
Sign up for your FREE Market Snapshot. You'll recieve the latest trends for your neighborhood for sold homes, properties for sale, inventory counts, and even "days-on-market". You can also view information regarding schools and community.
Previous Waxhaw/Weddington/Marvin Area Housing Market Updates:
This Charlotte, North Carolina real estate monthly update for Waxhaw, Weddington, Marvin is brought to you courtesy of Nina Hollander and Carolinas Realty Partners, RE/MAX Executive Realty, your Charlotte metro area real estate consultants. 
If you are considering selling or purchasing a home in the Charlotte metro area, I would love an opportunity to earn your business, exceed your expectations, and to prove to you that:
 "The Right Broker Makes All The Difference."