Hau 'oli Makahiki Hou!  (translation from Hawaiian to English - Happy New Year!)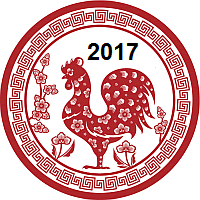 2016 was a tough year it seems for many in my circle of friends.  Many life threatening illnesses, deaths, and other financial stresses.  I'm not one to follow astrology or predictions to a tee but I needed a pick me up after surviving 2016.  
On New Year's Eve I decided to Google "Chinese Astrology 2017" to find out what the new year would possibly hold for me, my family, and my friends.  It was great news - things were going to improve.  
According to Master Tsai,  "the Chinese Horoscope theory, Chicken is a Female Metal. Female Metal is related to gold, precious gem or jewelry. That means Chicken implies luxury, beauty, and wealth."  How does this translate well it honestly depends on when you were born for each of the translation may be different.  I know we all don't like clicking on different links to get more info but in this case it would take pages and pages for me to share with you the possibilities... so if you are curious here's the link and how to figure out what your Chinese Astrology sign is and how it applies.  http://www.chinesefortunecalendar.com/2017/  
I'm a fire horse and basically I'm going to have a good year, or at least better than last.  Now you may be asking how does this apply to real estate?  "Career: Your career luck is pretty good. Chicken is connected to the season of fall, the time of harvest. As long as you continue to be passionate about your career and continuously set higher goals for yourself and achieve them, success will wait for you. Your career will bring you good income." Here's my interpretation... if we work hard at doing all the things we need to do to find prospects, create clients from these prospects, and successfully close transactions we will have a great year in real estate.  There's more but I won't bore you with what the site said.
Just a side note... take the time to figure out your sign if you are born in January or February for 30 years I thought I was a goat and this whole thing was "Malarkey" "Bull****" etc... I was nothing like the goat... then it was brought to my attention that I was a horse and the light went on and darn it... it was right on.  
If you enjoy this and want to learn more the Theadora Lau series is amazing... she goes into elements, arising, etc... which makes things even more accurate.  I love her book because I often go to it when I find I'm having trouble communicating with someone... you know that one person that seems to always say the wrong thing or no matter what you say its taken the wrong way... I found that this person is often my direct opposite and once I understand the nature of the person I'm better able to adjust my communication methods and manners and we get along much better.  I use this for work and play...  
Good Luck this year may it bring you all that you wish and hope for!