December 2016 home sales in the Fort Mill/Tega Cay, South Carolina areas of the Charlotte, NC metro region had a solid performance in the last month of the fourth quarter, continuing the trends we've seen all year with sales prices increasing, closed and pending sales up.
The average sale price of Fort Mill area homes increased by 3.8% to just under $291,000 compared with December 2015, while average days on market for property listings dropped by 12 days to 47 days, a 20.3% improvement over the same period last year. Price per square foot also increased by 5.5% to $115/square foot during December 2016 versus the same period in 2015.
In Tega Cay, average home sale prices were up 7.6% to just under $328,000 versus December 2015, while days on market increased by 2 days to 60 days.  Price per square foot in Tega Cay increased by 6.8% to $126/square foot in December 2016.

Closed sales of homes in Fort Mill during December 2016 improved by double digits at 12.7% compared with the same period last year. In Tega Cay, closed sales also increased by double digits at 18.5% versus December 2015. Pending sales in December 2016 were up double digits, as well, by 11.5% in Fort Mill and up by 28.7% in Tega Cay versus December 2015.
The average percent of original list price that sellers received for their homes was 97.1% in Fort Mill and 97.0% in Tega Cay, showing relatively little negotiating room on both Fort Mill and Tega Cay homes.

The Fort Mill/Tega Cay area's months supply of homes as compared with one year ago is 2.8 months (down 12.5%) and 3.6 months (down 7.7%), respectively--indicating a seller's market in the Fort Mill/Tega Cay areas of South Carolina. Unlike in many other parts of the Charlotte metro area new listings increased 9.2% in Fort Mill and 16.7% in Tega Cay in December 2016.
Based on sales in 2016, as we enter the first month of 2017, it seems safe to assume that housing inventory in Fort Mill/Tega Cay will remain relatively tight and homes will continue to sell quickly and close to asking price for the forseeable future.

Fort Mill/Tega Cay Areas Local Market Update - December 2016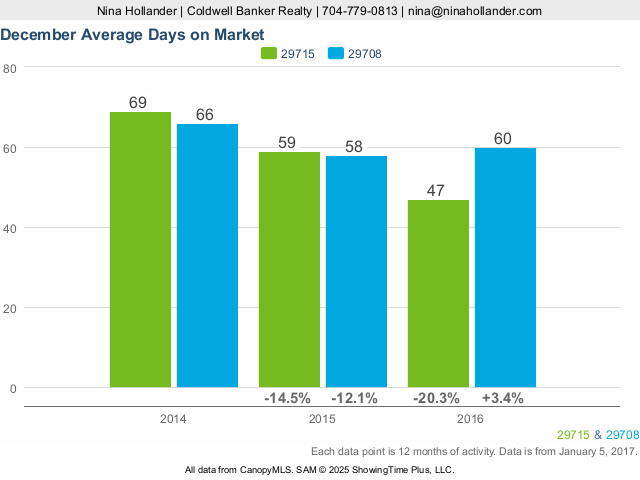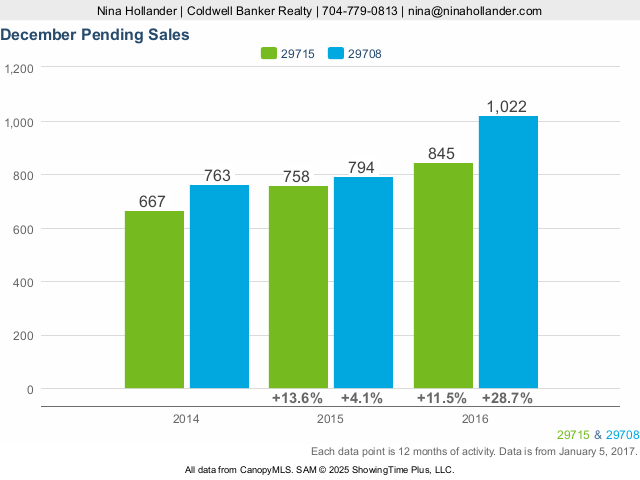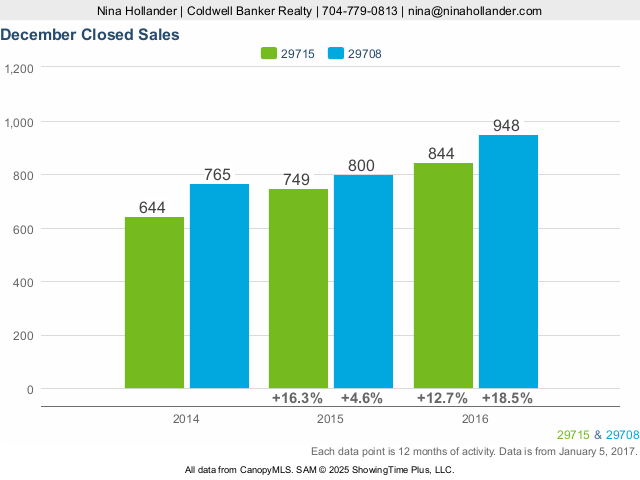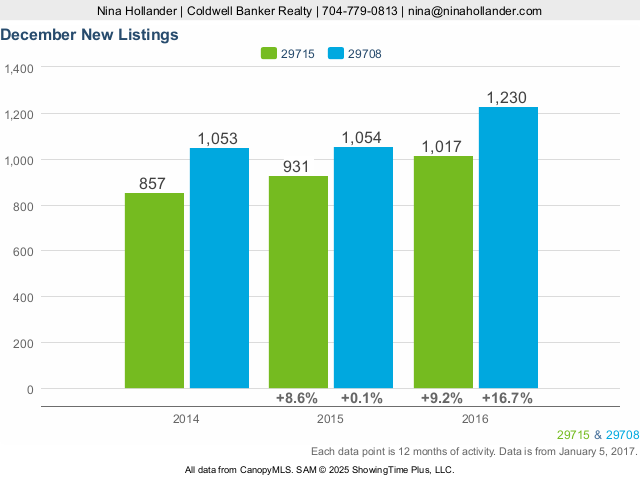 SEARCH ALL FORT MILL, SC HOMES FOR SALE
SEARCH ALL TEGA CAY, SC HOMES FOR SALE
WONDERING WHAT YOUR FORT MILL OR TEGA CAY, SC HOME IS WORTH?
Previous Fort Mill/Tega Cay Housing Market Updates
This Charlotte, North Carolina real estate monthly update for Fort Mill and Tega Cay is brought to you courtesy of Nina Hollander and Carolinas Realty Partners, RE/MAX Executive, your Charlotte metro area real estate consultants. 
If you are considering selling or purchasing a home in the Charlotte metro area, I would love an opportunity to earn your business, exceed your expectations, and to prove to you that:
 "The Right Broker Makes All The Difference."