4 Ways First-Time Homebuyers Can Reduce Closing Costs
Buying your first home can be a really exciting time, but it can also be a bit stressful and overwhelming. Closing costs are often a point of concern for first-time homebuyers. How much will they be? Will you have enough money to cover the costs? What do closing costs even cover?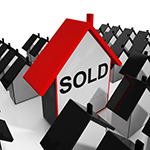 Thankfully, there are some steps that you can take to reduce your closing costs, which are the fees associated with closing on your home. They typically include things like attorney fees, title search, insurance, and more.
Here's a few things to consider with your agent:
#1: Start by understanding your closing costs. Closing costs will vary significantly depending on location where you are buying, the purchase price of the home and even the day of the month when the closing is scheduled. States with higher tax rates, for example, would have higher closing costs. Closings that occur towards the end of the month will be more cost effective as you will have to pay per diem interest for fewer days.
#2: Go shopping for your closing costs. This financial comparison shopping should include your mortgage lender, title insurance company, homeowner's insurance policy and even your home inspection. Not only can the best deal on homeowner's insurance lower your closing costs, you will save on insurance premiums in the long run. You may want to inquire about reissue rates on your homeowner's title insurance. If the seller purchased the home and the policy within the last ten years, the policy can be reissued to the buyer with as much as a 40% savings.
When talking to potential lenders about your mortgage also ask for ballpark estimates on the closing costs. All banks are not created equal and you will need to make comparisons and possibly even negotiate between lenders for the best deal. Also look out for junk fees that are unnecessary.
#3: Ask for a lender credit. A lender credit is where you agree to a higher mortgage rate. You'll end up paying a little more each month for your mortgage but your closing costs may be lower. This is a great option if you plan on staying in this particular home for a long time.
#4: Ask the seller to contribute. This isn't always an option, but in a struggling market or where a property has been listed for a long time it is worth a try to see if the seller is willing to help with the closing costs. Ask your Realtor to help you negotiate.
Of course, these are just a few of the many ways that you can save on your closing costs when buying your first home. For more tips and tricks like this, consult with your agent who will know what is standard in your market.