Tips for Keeping Your Home Safe
Over the Christmas Holidays I am sure you heard of the thieves that were boldly walking up to front porches and taking presents/packages in broad daylight.  Here are a few tips on helping to keep your home safe and sound for the New Year as well as the people who live in the home.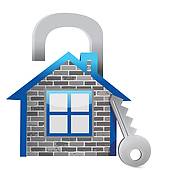 1.  Are you doors and window locks working properly?  The best security for your home is steel outer doors and deadbolts.  Second is to make sure all your windows are properly locked.  Deadbolts and secure, steel outer doors are important, as are secure windows that lock.   The majority of burglaries are no-force entries.  This is where the thief is able to gain entry into the home through an unlocked door or window.  Check the trees around your home to make sure they do not allow easy access to windows.  Have a garage door opener helps keep the garage door more secure as well.
2.  Outdoor Lighting is Important.  Motion sensors are a great way to keep the outside of your home lit and to scare off potential thieves.  Lighted entryways and flood lights are also helpful, just make sure to replace burned out light bulbs promptly.
3.  Gated Entries & Fenced Property.  Gates and fences will help limit traffic from your home by creating a barrier.  They will also make it more difficult to remove valuables from the house.  Adding outside cameras will help by capturing images of the activity outside your home.
4.  Be a good Neighbor!  Being a part of your neighborhood community watch makes sure everyone else is watching out for you as well as for them.  It will also help you get to know your neighbors so you will hear more of what is happening to help solve any problems.  Let your neighbors know when you will be gone so they can watch for unusual activity around your home.
5.  Don't Tell the World!  Don't post on social media that you will be gone on vacation and for how long, be careful who you do tell and who might overhear you telling.
6.  Use Smart Technology.  If you are going to be away from home for extended periods of time, think about investing in timers for your lights, TV and music.  Make things look like you are home.  Have the neighbors pick up the newspaper and if you have an  mailbox in your yard, have them pick that up as well.   Keep your shades where they would normally be as if you were home.  Having someone drive in and out of your driveway picking up the mail and newspaper could make it look like someone is there.
7.  Man's Best Friend.  Having a dog is a great alarm with barking and having a big dog could be just plain scary.
8.  A Security System.  A security system can be monitored or un-monitored.  They can produce loud alarms that would alert your neighbors or they can be silent and alert the authorities.  Think also about having an indoor surveillance system as well.  If you do post outside your home that you have a system, be careful to not let the thief no too much information.  Learn how to use the system so you don't send a false alarm and most of all remember to use it.
9.  A Home Safe.  Installing a home safe whether it be a drawer size or a large closet size safe, it is a great place to store the important papers and photos as well as expensive jewelry.  Bolt small safes down.
10.  Watch your Trash.  Break down those boxes so that you do not advertise to the world your new sound system, TV or other expensive house hold items.
Be the criminals deterrent, not their accomplice.