I hope you had a wonderful holidays and wish you a happy and prosperous 2017!
Despite the seasonal slow down in the Leander Real Estate market, there was a slight upward move in the median price of the houses sold. For the 2016 year as a whole there was a 10.5% median price appreciation, combined with a 6.2% growth in the number of houses sold, it points to a solid growth in the housing market. The most active part of the market is $200K - $500K price range as majority of the houses sold and those currently in the market for sale, fall into that category.
Back in 2015 Leander City Planners released the long-term housing plans with a time horizon well into the mid 2020's. It identifies residential development plan sites to build more than 14000 houses. During 2016 in the Leander area about 522 new single family homes were built, this compares to only 124 for the neighboring Cedar Park. Movement of new people into the area continues to create demand as it is evidenced by the median price appreciation of 10.5% during 2016. Considering an annual growth rate of 6%-8% for building of new homes, the city planners long term projection seem to be realistic and achievable.
Real Estate transactions slow down during the winter months which create a perfect window for reflection on possible moves in the coming year. Start of the 2017 brings signs of an  increasing trend in interest rates that could impact your plans. For a typical $300K loan an slight increase in rates, from %4 to %4.25, increases the monthly payments by $44 and by $15,700 over the 30 years life of the loan. Although nothing is certain about the future interest rates, it is wise to consult a lender or mortgage broker about the current rates and the impact of any future increase on your specific situation. The
Leander single-family home sales during December 2016 is summarized below. All comparisons are relative to December 2015.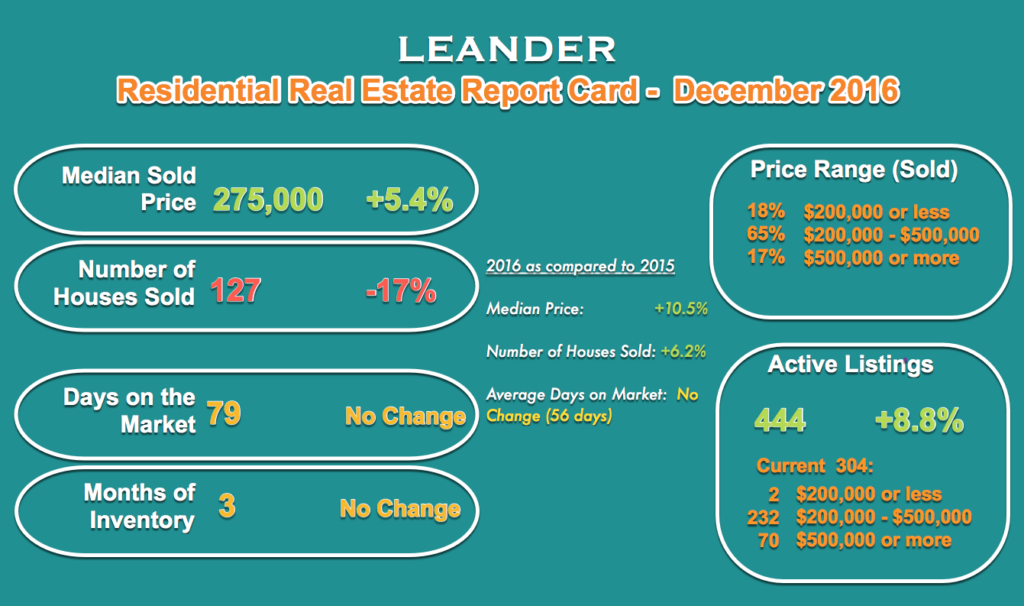 You can explore details of all the Leander home sales during December 2016 below.
All this activity has affected your home's value!
If you plan to move, you need to know the value of your home right now. You can find this out in two easy ways:
Go to the website I created specifically for this purpose at: www.myLeanderPropertyWorth.com
Text 52101 to (888)264-1910, to receive your property valuation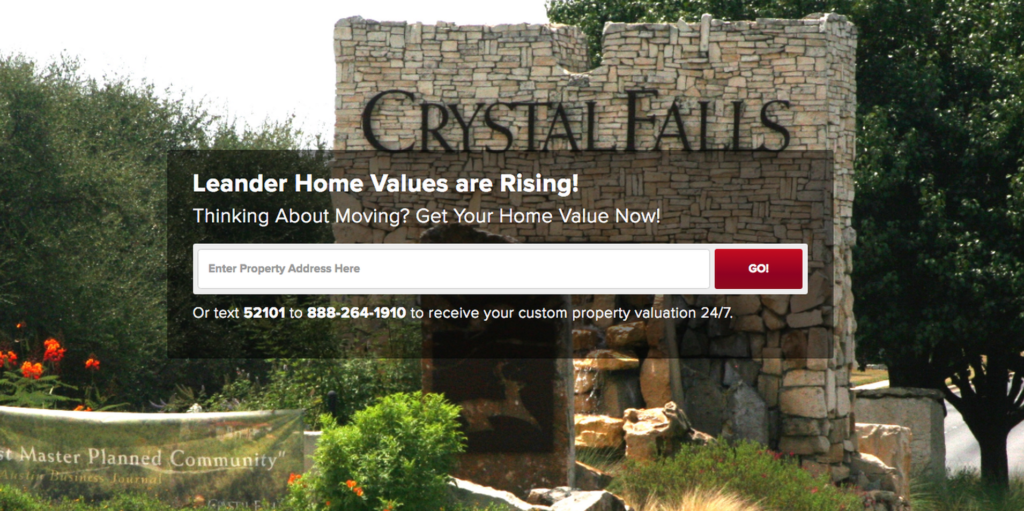 I hope you find this helpful. Referral is a big part of my business and as always I appreciate your consideration in referring any friends, family, or colleagues my way. Thank you for supporting me and my business endeavors. Please don't hesitate to ask me questions about real estate, your desired neighborhoods, or your house value!
 Wishing you a happy and prosperous 2017!