The   Venice, CA Market Trend Report is published. If you look at this report don't you wish you would have listened to me and brought those properties?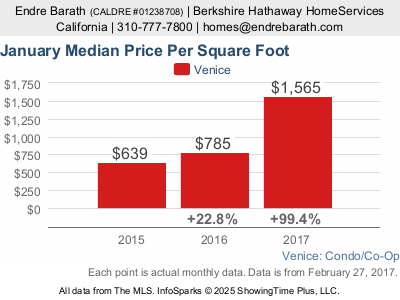 It is virtually unfathomable look at the increases per Square Foot. Now if you have doubts, let's look at them from a different perspective.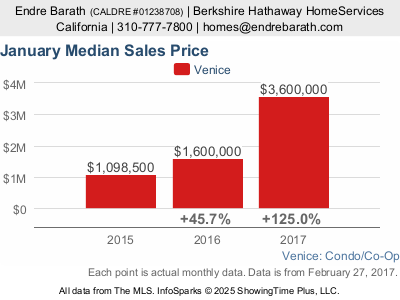 So those Condominiums you thought were not worth to live in or you thought that the neighbors looked a little sketchy? Well look again!
As you can see other people have been buying up the inventory, there is still an opportunity, not a lot but you might want to take advantage before some one else will.
If you are considering buying or selling a home, a luxury home, luxury investment real estate, luxury vacation homes, or luxury beach properties in Southern California, Los Angeles, Century City, Westwood, West Hollywood, Beverly Hills, Marina Del Rey, Venice or Malibu, feel free to contact me at 310.486.1002 (m) or homes@endrebarath.com or visit one of my websites at  http://www.endrebarath.com.  I am a Pet Friendly Realtor and I contribute a portion of my commission to local animal rescue organizations.