San Marcos is located in North County Inland San Diego. San Marcos is made up of 2 zip codes and they are 92069 and 92078. San Marcos is home to Cal State San Marcos and Palomar College. San Elijo Hills is within the southwest borders of San Marcos. San Marcos is just west of the 15 Freeway and is split by Highway 78 that runs east to west. 
San Marcos is east of Carlsbad and the community of Bressi Ranch, north of Rancho Santa Fe and the community of the Bridges at Rancho Santa Fe, west of Escondido and south of Vista. There is a diversity of homes in San Marcos, from older to brand new communities and from large ranch style homes to 1 bedroom condominiums and townhomes.
Are you interested in knowing the value of your San Marcos home? We have a great House Value Tool that will give you a quick home value of your San Marcos Real Estate. Many of my clients like it better than the Zillow Zestimate. They say it has more accurate data and is more thorough and complete. My San Marcos House Value Checker will show you all of the comparable properties that it uses when calculating your home's value. That way you can reference which properties the San Marcos House Value Calculator is using.  Why not try it? It's FREE.
Even if you're not selling your home in San Diego County right now it's important to know where your home is on the home value chart. For most people their home is the most expensive and important asset they own. Every once in a while, usually quarterly, I will look at my 401k and other investments to see where they are at. Keeps me in the loop on where my investments are and allows me to make any changes I need to stay on track. Knowing your home's value is one of those quarterly, if not yearly checks that I believe is a good idea.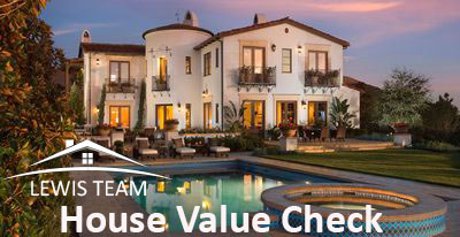 If you are considering selling your home in the next 6 to 12 months now is the time to get a free home value analysis. We would also suggest that you take advantage of our on-site "CMA" Comparative Market Analysis. This is where Mike and Dawn will do a full professional value check of your San Marcos Home. We will spend some time with you over the phone asking you important questions about your home like; condition, improvements, additions and other value related questions about your home. We will then compare your property to other homes in your San Marcos neighborhood that are similar to yours. We will make a list of active homes on the market, homes in escrow and sold homes in San Marcos to come up with the proper valuation of your home. This is something a computer generated report just can't do, and it's 100% accurate because it's a snapshot of the current real estate market in your neighborhood specific to your home. We offer this for free because having an accurate home value from a local real estate expert is priceless. We also want to make sure you know the real value of your San Marcos Real Estate. 
During this visit we can also give you suggestions on improving your home for the sale, what to tidy up, what to paint if needed, staging advice and so much more. We would also be at your disposal for any real estate questions you have, and we would also enjoy meeting you.
Posted in Blog, Blogroll, Keller Williams, Keller Williams San Diego, North County Inland, San Diego House Values, San Diego Market Report, San Diego MLS, San Diego Real Estate, San Diego Real Estate Blog, San Marcos, The Lewis Team
Buying or selling a home in San Marcos, give The Lewis Team a call today! We would love to help!
We're your San Marcos Real Estate Experts
The Lewis Team at Keller Williams
619-656-0655 
San Diego Real Estate   Buy a Home in San Diego    Sell a Home in San Diego 
San Diego Relocation   San Diego Military Relocation   San Diego Home Worth