Located in North County Inland San Diego Tierrasanta is a one of a kind community. Because of its location there's very little traffic going through Tierrasanta. There are 3 main roads in Tierrasanta, Santo Road off of the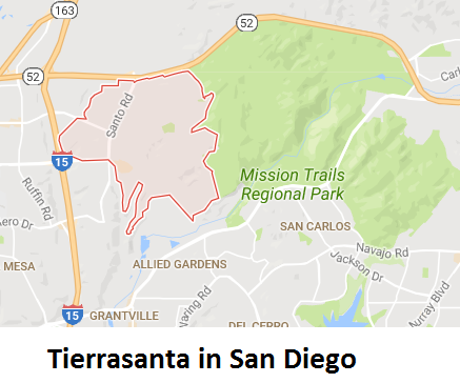 52, Clairemont Mesa Blvd. and Tierrasanta Blvd. Tierrasanta is situated in such a way that it's a very secluded neighborhood. To the east of Tierrasanta is Mission Trails Regional Park, to the north is Route 52 and on the other side of the 52 is open space for the landing approach for Marine Corps Air Station Miramar, to the south is Mission Gorge and the communities of Allied Gardens and Del Derro, to the west is Kearny Mesa. No roads exit or enter Tierrasanta from the east or south and only Santo Road exits to the north, this leaves Tierrasanta with little pass through traffic.
Tierrasanta means "holy land" in Spanish and was originally part of the Mission San Diego de Alcalá Ranch. In 1941 the U.S. military purchased the land and created the Marine Corps Base, Camp Elliott, which was a training facility. In 1961, the U.S. Government sold the area that is now Tierrasanta and a portion of neighboring Mission Trails Regional Park to the City of San Diego. The Elliott Community Plan was issued in 1962 to serve as a road map for development. In 1971 Tierrasanta was founded. There are approximately 2,300 homes in the southwest portion of town that are part of the Murphy Canyon Military Housing Complex. The Tierrasanta zip code is 92124.
Are you interested in knowing the value of your Tierrasanta home? We have a great House Value Tool that will give you a quick home value of your Tierrasanta Real Estate. Many of my clients like it better than the Zillow Zestimate. They say it has more accurate data and is more thorough and complete. My Tierrasanta House Value Checker will show you all of the comparable properties that it uses when calculating your home's value. That way you can reference which properties the Tierrasanta House Value Calculator is using.  Why not try it? It's FREE.
Even if you're not selling your home in San Diego County right now it's important to know where your home is on the home value chart. For most people their home is the most expensive and important asset they own. Every once in a while, usually quarterly, I will look at my 401k and other investments to see where they are at. Keeps me in the loop on where my investments are and allows me to make any changes I need to stay on track. Knowing your home's value is one of those quarterly, if not yearly checks that I believe is a good idea.
If you are considering selling your home in the next 6 to 12 months now is the time to get a free home value analysis. We would also suggest that you take advantage of our on-site "CMA" Comparative Market Analysis. This is where Mike and Dawn will do a full professional value check of your Tierrasanta Home. We will spend some time with you over the phone asking you important questions about your home like; condition, improvements, additions and other value related questions about your home. We will then compare your property to other homes in your Tierrasanta neighborhood that are similar to yours. We will make a list of active homes on the market, homes in escrow and sold homes in Tierrasanta to come up with the proper valuation of your home. This is something a computer generated report just can't do, and it's 100% accurate because it's a snapshot of the current real estate market in your neighborhood specific to your home. We offer this for free because having an accurate home value from a local real estate expert is priceless. We also want to make sure you know the real value of your Tierrasanta Real Estate. 
During this visit we can also give you suggestions on improving your home for the sale, what to tidy up, what to paint if needed, staging advice and so much more. We would also be at your disposal for any real estate questions you have, and we would also enjoy meeting you.
Buying or selling a home in Tierrasanta, give The Lewis Team a call today! We would love to help!
Posted in Blog, Blogroll, Keller Williams, Keller Williams San Diego, North County Inland, San Diego House Values, San Diego MLS, San Diego Real Estate, San Diego Real Estate Blog, The Lewis Team, Tierrasanta
We're your Tierrasanta Real Estate Experts
The Lewis Team at Keller Williams
619-656-0655 
San Diego Real Estate   Buy a Home in San Diego    Sell a Home in San Diego 
San Diego Relocation   San Diego Military Relocation   San Diego Home Worth