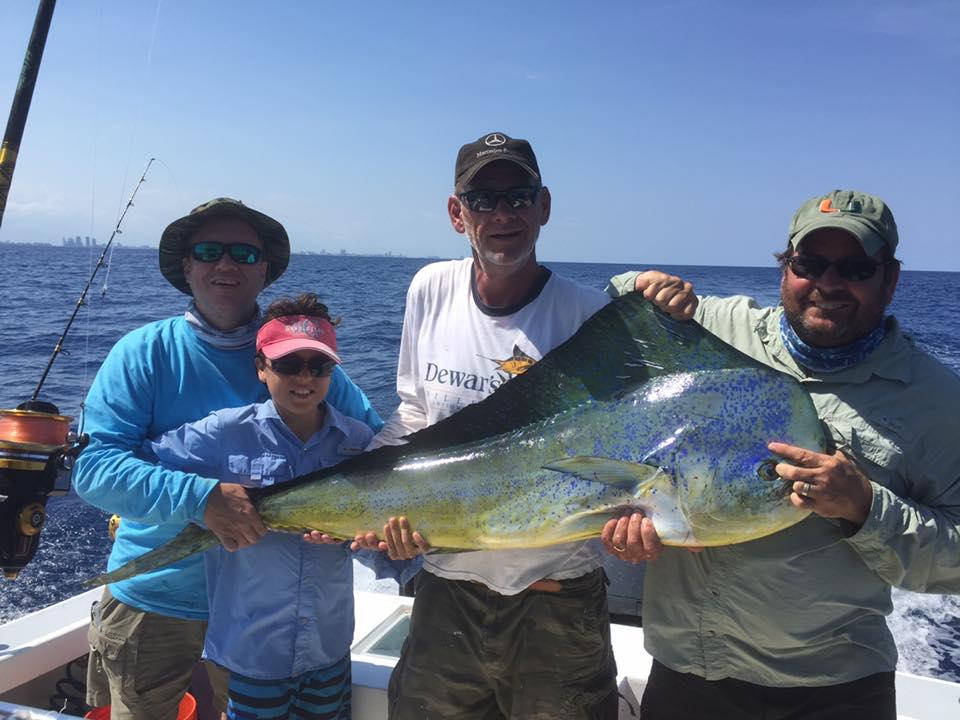 Ok I have to admit this is something I am very knowledgeable about. If I am not working I am usually trying to go fishing. If you want to charter a boat there are many options in Miami and depending on what you would like to target. You would have to call me and I can recommend the right Captain and boat for you. We have both offshore fishing and back-country or bay fishing here.
Offshore fishing we depend on certain seasons in the winter, spring and fall we depend on a good Sailfish run some days if your lucky enough you can have double digit catches and this fishery is all catch and release, its a blast and an adrenaline rush to see a sailfish eat a live bait under a kite. In the summer during the days we run offshore searching for Mahi-Mahi and fish can run from "schoolies" to 50lbs. So far I have caught one over 40lbs for the last 3 years so they are out there and its a rush to fight them and see these beautiful fish jump. With the Mahi you will have mixed in Tuna's, Wahoo, Kingfish and the occasional Marlin either Blue or White. During the nights we get the snapper spawn but cannot be predicted when they will be around you just have to put in the time and be weary of the lighting storms that can approach out of nowhere. This type of fishing is a lot of fun and will keep you out of the summer sun and heat.
Inshore we have some of the best trout fishing flats in North Bay around Julia Tuttle which can produce sometimes 20-30 fish a day. Also, mixed in the flats you will find Jacks, small Mangrove Snapper and once in a while a Tarpon. If you run further south of Key Biscayne there is a very good Bonefish fishery but you need to know your way back there in the shallow water so you don't get yourself and your boat into trouble. At night you can fish for Snook around the lights under bridges and docks. This is a very fun way to fish but you have to be careful not to make to much noise near other peoples docks and property. Snook are great to eat and a lot of fun to catch. 
Beach fishing can also be done early in the morning before swimmers take the water. You can catch a variety of fish depending on the season, with Snook, jacks, pompano, bluefish, mackerel and tarpon are all working the edges of the beach looking for food.
Fresh water fishing is done more to the west in the everglades with most people fishing for Largemouth Bass.
Please if you do decide to fish your self make sure you are aware of all the fishing regulations, limits, licencing and guidelines. You can find this for both fresh and Salt water at: THE FWC Home page Florida Fish and Wildlife.
Let me know if you have any questions anytime I am here to help. You can visit me on facebook: "The Reeltor"
Regards,
-- 
Kenny Raymond PA
The Raymond International Realty Group
Berkshire Hathaway HomeServices Florida Realty
Realtor/Associate
(786)443-9649 (cell)
(305)675-2695 (Fax)
kennyraymond@
825 Arthur Godfrey Rd- 2nd Floor, Miami Beach, FL 33140
Berkshire Hathaway Homeservices 2009-2014 year Legend award
Top 10 teams & Chairman's Platinum Circle 
Information deemed reliable but not guaranteed.